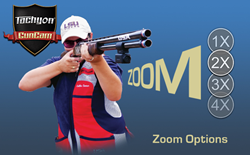 GunCam for Clays works closely with shooting coaches that use it as an essential tool for reinforcing her instructions. Nothing beats seeing clear video of what you are doing wrong and what you are doing right.
HOUSTON (PRWEB) September 20, 2019
A new Tachyon App that allows shooters to connect their devices, via the camera's wifi, allows users to select zoom levels, reticle style, and to calibrate reticle position.
They can live-stream, record, and immediately play back their video files while in the field.
Users will have a choice of four reticle styles, or no reticle. They may choose the one that best suits their need or the one that is most visible in their shooting environment.
​The chosen reticles may then be easily calibrated with cursors on the user's mobile device to zero-in the gun's point of aim.
GunCam® is plug-and-Play to Macs and PC's. For best results use the VLC Media Player for pausing, playback in slow motion, and zooming. Users can play back on their big screen TVs through an HDMI cable.
GunCam® ​users will also be able to choose from between the already very tight-view lens and three other levels of digital zoom for the most distant shots.
Playback speed inside the App's video player can be slowed to 10%, 20%, or 30%, which are the ideal settings for checking and adjusting your shooting while in the field.
While recording without the Wi-Fi connection, users may tap the power button to pause recording, and tap again to start recording again. This saves shooters not only battery power, but many minutes of wasted video that they would have to sort through to find their shots. With the GunCam there is no need to close the gun hard to start recording.
GunCam® may use up to 256GB memory cards for saving up to 24 hours of video. (Memory cards are sold separately). The built-in Lithium rechargeable battery will give a solid 2.5 hours of recording on a full charge. It can also be continuously charged from a power bank, enabling a full day of recording hunting video.
GunCam® records in 1080p at 60 frames per second for the smoothest video playback, or in Quad HD at 30 frames per second. The sound quality is always top notch.
Included with the camera are four pairs of mounting pads designed for 12, 20 and 28 gauge O/U (over and under), semi or pump shotguns.
For the free App, search for "Tachyon" in App stores and look for our logo.