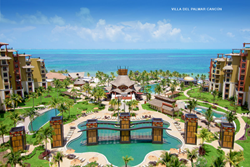 TAFER is one of the first in Mexico to offer up to 14 nights complimentary room only accommodation through March 31, 2021.
PUERTO VALLARTA, Mexico (PRWEB) February 16, 2021
As of January 7, 2021, the Canadian Government requires all air travelers flying to Canada (aged 5 & up) to present a negative COVID-19 test and as of January 26th, 2021 the CDC requires all air travelers (aged 2 & up) entering the United States to present a negative COVID-19 test. The tests must be administered no earlier than three days (72 hours) prior to departure.
Considering these new testing requirements imposed by Canada, the US, and other countries, TAFER Hotels & Resorts (TAFER) is committed to ensuring that our guests continue to enjoy worry-free vacations and we are facilitating on-site testing from an authorized laboratory. Guests staying at any of the TAFER brand´s resorts can obtain a COVID-19 test directly at the resort during their stay.
For travelers flying into the US, they must show proof of a viral test. NAAT or antigen tests both qualify. For travelers bound for Canada, a molecular test must be performed such as LAMP or PCR tests. Both the antigen and PCR tests will be administered at TAFER´s resorts by a certified laboratory. We are offering complimentary antigen testing. For guests who require PCR test, it will be available for the discounted rate of $150 USD. We guarantee that the laboratory results will be ready prior to check-out.
For guests who test positive, TAFER is one of the first in Mexico to offer up to 14 nights complimentary room only accommodation through March 31, 2021. Guests will be required to follow a set of guidelines for their safe quarantine and will be responsible for covering the cost of their food, beverages and incidentals while quarantined in their luxury suite. They will also have access to an on-site doctor if any further medical attention is needed.
In addition to providing on-site COVID testing and medical care, TAFER has enhanced its cleaning and sanitization protocols complying with international standards to ensure guest safety. All public spaces and high touch areas are regularly sanitized with hospital grade disinfectant. All rooms are thoroughly sanitized and inspected by the Housekeeping Manager. Social distancing is encouraged and the use of face masks is mandatory for all staff and recommended for guests. Antibacterial gel dispensers have been placed at key areas around the resort and access to the gym and spa is available by appointment only with controlled capacity.
Leading the way for guest comfort and safety while traveling during this unprecedented time, we are making every effort to ensure that our guests will have everything they need for an extraordinary vacation and a seamless departure.
For more information, please contact us at 1- 877-205-1410.
About TAFER Hotels & Resorts
TAFER Hotels & Resorts is on the leading edge of luxury vacation experiences specializing in vacation ownership, real estate, marketing, and concept design. TAFER´s collection of high-end contemporary resorts includes:
Villa del Palmar Cancun Beach Resort & Spa, Garza Blanca Resort & Spa Cancun, Hotel Mousai in Puerto Vallarta, Garza Blanca Preserve Resort & Spa Puerto Vallarta, Garza Blanca Resort & Spa Los Cabos, Sierra Lago Resort & Spa in Mascota, Sian Ka'an Village in the Sian Kaan Biosphere.
TAFER´s overall mission is to merge excellence, quality and creativity to provide the finest luxury escapes in Mexico. Located within the grounds of five-star hotels and exclusive nature preserves, guests have the option of staying in junior suites, master suites, luxury lofts, and chic penthouses for an exceptional rendezvous with elegance. Expansive balconies, bubbling Jacuzzis, and luxury privileges await each distinguished guest in paradise.
Social Media:
TW:/TaferResorts
FB:/TAFERHotelsResorts/
IG:/taferresorts/
Linkedin:/company/tafer-hotels-resorts