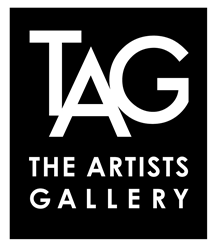 FREDERICK, Md. (PRWEB) March 16, 2021
After a year without a permanent home, TAG/The Artists Gallery is back. In response to the pandemic, the group amped up its social media, created an online store and newsletter, and held several pop-up shows. Most importantly, the artists kept on creating new work.
TAG now has a brick-and-mortar gallery at 501 N Frederick Street in Frederick. The Griffin Art Center, NOMA Gallery, Bravura Art and Framing, and Gallery 322 are all nearby, making the area a prime destination for art lovers.
The building is full of charm and function, with a tin ceiling, exposed brick, plenty of natural light, and a patio. "Over the years, businesses ranging from an ice cream parlor to an IT company have left unusual features behind at 501," says mixed-media artist Julie Maynard. "This place has so much character that it projects a kind of confidence— it's ready for whatever we care to throw at it."
TAG's debut show, "Up Market Revival," opens at noon on Friday, April 2. The exhibit features new work by gallery's artists Colleen Clapp, Gillian Collins, Luc Fiedler, Sandra Fritter, Sarah Higgins, Lusmerlin, Karen Winston-Levin, Christina Lund, Julie Maynard, Jan McIntyre-Creager, Karen Peacock, Shyam Rele, Marie Riccio, Christine Stovall, Tom Semmes, Rhonda J. Smith, Marc Weinberg, and Cathy Wilkin.
The artists will take full advantage of their outdoor area. In honor of National Poetry Month, TAG's first "Patio Project" will be a free writing workshop on April 18 from 2 to 3 p.m. Preregistration isn't necessary, but seating is limited. Reservations can be made at tagfrederick@gmail.com. Please put "Writing Workshop" in the subject line.
A demonstration of plein-air painting is coming up in May, along with a printmaking demo in June. Look for a variety of other activities for as long as the weather cooperates.
At 30 years old, TAG is the longest-running gallery in Frederick, and new members are welcome. For information about the application process, visit theartistsgalleryfrederick.com or contact Rhonda Smith at middlebridgestudio@gmail.com
"Up Market Revival" runs from April 2 through April 25. Hours are Fridays and Saturdays from noon to 8 p.m. The gallery will also be open on Sundays from noon to 4 p.m. If COVID cases peak, hours are subject to change.