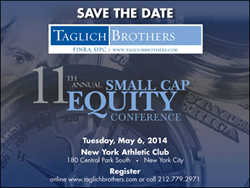 A unique opportunity for investors to meet management teams from small and microcap companies...
NEW YORK, NY (PRWEB) April 16, 2014
DecisionPoint Systems, Inc. is pleased to announce that Nicholas Toms, CEO and Dave Goodman, CFO of DecisionPoint Systems, Inc. (OTCQB: DPSI) will be presenting at Taglich Brothers 11th Annual Small Cap Equity Conference May 6, 2014. The Conference will take place at the New York Athletic Club, New York City. To request additional information or to register, contact Taglich Brothers at 212-779-2971 or visit http://www.TaglichBrothers.com.
About Taglich Brothers
Taglich Brothers, Inc. is a full-service broker dealer focused exclusively on microcap companies. The Company defines the microcap segment of the equity market as companies with less than $250 million in market capitalization. Taglich Brothers currently offers institutional and retail brokerage services, investment banking and comprehensive research coverage to the investment community.
About DecisionPoint Systems, Inc.
DecisionPoint Systems, Inc. improves productivity and delivers operational advantages to its clients by helping them move their business decision points closer to their customers. They accomplish this by making enterprise software applications accessible to the front-line worker anytime, anywhere. DecisionPoint utilizes all the latest wireless, mobility, and software development technologies, http://www.decisionpt.com.
Contact:
Taglich Brothers
Karen Payne, Symposia Events
212-779-2971