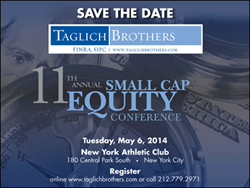 A unique opportunity for investors to meet management teams from small and microcap companies...
NEW YORK, NY (PRWEB) April 23, 2014
OxySure Systems, Inc. is pleased to announce that Julian Ross, CEO of OxySure® Systems, Inc. (OTCQB: OXYS) will be presenting at Taglich Brothers 11th Annual Small Cap Equity Conference May 6, 2014. The Conference will take place at the New York Athletic Club, New York City. To request additional information or to register, contact Taglich Brothers at 212-779-2971 or visit http://www.TaglichBrothers.com.
About Taglich Brothers
Taglich Brothers, Inc. is a full-service broker dealer focused exclusively on microcap companies. The Company defines the microcap segment of the equity market as companies with less than $250 million in market capitalization. Taglich Brothers currently offers institutional and retail brokerage services, investment banking and comprehensive research coverage to the investment community.
About OxySure Systems, Inc.
OxySure Systems, Inc. is a Frisco, Texas-based medical technology company that focuses on the design, manufacture and distribution of specialty respiratory and medical solutions. The company pioneered a safe and easy to use solution to produce medically pure (USP) oxygen from inert powders. The company owns numerous issued patents and patents pending on this technology which makes the provision of emergency oxygen safer, more accessible and easier to use than traditional oxygen provision systems. OxySure's products improve access to emergency oxygen that affects the survival, recovery and safety of individuals in several areas of need: (1) Public and private places and settings where medical emergencies can occur; (2) Individuals at risk for cardiac, respiratory or general medical distress needing immediate help prior to emergency medical care arrival; and (3) Those requiring immediate protection and escape from exposure situations or oxygen-deficient situations in industrial, mining, military, or other "Immediately Dangerous to Life or Health" (IDLH) environments. http://www.OxySure.com
Contact:
Taglich Brothers
Karen Payne, Symposia Events
212-779-2971