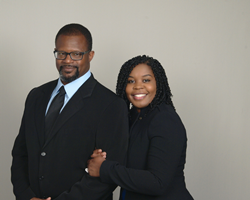 Going through a transition can be stressful and traumatic. When you bring in Caring Transitions, we will work with you and your family to identify your goals, create a plan to reach those goals and then take lead on getting there as efficiently and compassionately as possible. - Tai Crayton
CROWN POINT, Ind. (PRWEB) November 02, 2021
Tai and Christopher Crayton have always shared one particular passion – helping people reach their goals. Now they're excited to combine that passion with their experience to launch their own business – Caring Transitions of Crown Point.
Caring Transitions is the professional choice for moving, downsizing and hosting estate sales. Caring Transitions' specially-trained professionals handle every detail of their clients' transition including decluttering, cleanouts, packing, move management, unpacking, resettling into your new home with both in-home and online estate sales. Caring Transitions of Crown Point serves Crown Point, Saint John, Cedar Lake, Dyer, Griffith, Schererville, Merrillville and the surrounding areas.
"Going through a transition, especially as an older adult, can be stressful and traumatic. When you bring in Caring Transitions, we will work with you and your family to identify your goals, create a plan to reach those goals and then take lead on getting there as efficiently and compassionately as possible," Tai said.
Caring Transitions' services are perfect for managing the many aspects of a senior move. The company also helps busy families with downsizing, rightsizing, and clearing out the home of a loved one who has moved into assisted care or has passed away. All of Caring Transitions' services are customizable, so clients choose the solution that best fits their needs.
In addition to being a Certified Relocation and Transitions Specialist, Tai is a Licensed Clinical Social Worker with 19 years of experience working with seniors, families, groups, children and the homeless population. She has spent most of her career in leadership roles. Christopher is a Certified Leadership Coach, trainer and speaker and has almost 10 years of experience in the engineering field.
"Our backgrounds give us the unique ability to meet people where they are in a way that's empathic and honest. We really want to help and, with our team, you and your family will always be in good hands," Tai said.
"We have a heart for working with people and we both knew, if we were going to open a business together, it had to be one that would allow us to make a positive impact on our community. We are looking forward to providing a total solution and helping people reach their goals," Christopher said.
Caring Transitions of Crown Point is bonded and insured and all employees are background checked. For additional information, call 219-213-9413, email TCrayton@CaringTransitions.com or visit https://CaringTransitionsCP.com.