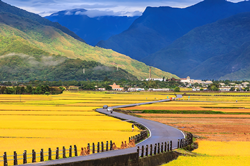 LOS ANGELES (PRWEB) June 23, 2022
The epidemic has led people to pursue a healthier, safer and more sustainable way of leisure travel, cherishing the time spent with family and experiencing culture in a more flexible, small group and in-depth way. Taiwan's excellent geography, cultural diversity and tolerance, convenient transportation, and free and safe society are well established in the U.S. market. During the epidemic, the Tourism Bureau of the Ministry of Transportation and Communications continued to promote Taiwan with more precise marketing strategies. The readers of Global Traveler, an American business travel magazine, voted Taipei, Taiwan, as the "Best Leisure Destination in Asia" and "Favorite Duty Free Shopping in Asia" for the fifth time in the 2022 Leisure Lifestyle Awards, which will be officially announced in June.
Global Traveler, a U.S. business travel magazine, specializes in high-end U.S. travelers, with over 550,000 subscribers and an average annual household income of US$370,000. 95% of its readers enjoy planning their own trips, 35% fly first class, 58% fly business class, and have made about 18 international flights in the past four years. 61% have traveled to Asia in the past four years, making it a major customer segment targeted by the Department of Transportation's Director of Tourism in its regular operations.
According to Mr. Brad Shih, Director of the Los Angeles Office of the Tourism Bureau of the Ministry of Transportation and Communications (MOTC), the global epidemic is still going on, and the travel preferences of the American public tend to focus more on health, safety and environmental sustainability, which are Taiwan's advantages and strengths. This year (2022), the Tourism Bureau of the Ministry of Transportation and Communications (MOTC) is promoting "multi-themed tourism PLUS", promoting multi-themed cultural, ecological, recreational and culinary activities, sustainable eco-tourism, four-season festivals, the Taiwan Lantern Festival, the Bicycle Tour Festival and other festive activities, and has completed a number of new packages for group tours and free-flowing air and wine tours. This is the best sustainable travel experience for Los Angeles people. We look forward to the early passing of the epidemic and the resumption of cross-border travel, and Taiwan is ready for it!
Mr. Chang, Shi-Chung, Director-General of Taiwan Tourism Bureau, further stated that at a time when global cross-border tourism is being affected, Taiwan tourism continues to be well prepared for the arrival of international tourists because we know that with Taiwan's epidemic prevention, freedom and safety, rich natural and cultural landscape, and convenient transportation, Taiwan will be one of the first destinations for international tourists after the opening of cross-border tourism.
In addition to leisure travel, Taiwan's unique art and culture, railway travel, bicycle travel, and Chinese language learning are also popular among mainstream people in recent years.
Welcome to visit the page at http://www.timefortaiwan.com.tw and follow our Facebook page at http://www.facebook.com/TourTaiwan to learn more about the exciting and diversified Taiwan themes, tours, and various products such as food, lodging, travel, and shopping.
For more information, please visit: https://www.taiwan.net.tw/