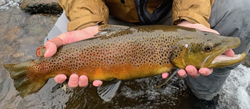 KNOXVILLE, Tenn. (PRWEB) November 13, 2019
A lot of fair-weather fishermen think that when the leaves drop and the mercury descends, the time for enjoyable angling has fallen away for the year. That is not the case in Northeast Tennessee, where a splendid web of creeks and rivers fish well year-round.
"There are always really good fishing opportunities around here," said Nick Shroyer of Trophy Water Guide Service in Hampton, Tenn. "No matter what time of year it is, there's a good option."
Shroyer's company specializes in hooking clients up with hefty bass and trout against backdrops of magnificent mountain scenery. He reckons a person could fish "every day for 60 straight days here and not go on the same stretch of water twice."
"The trout fishing is typically steady Eddy," he said. "We're catching two-foot browns every month of the year. We might have to switch up tactics depending on the water flows and the weather -- we might be streamer fishing or we might be small-bugging -- but there are always lots of different options."
Up a Creek, No Paddle Required
If fly fishing for hardy moving-water trout is a passion, then bear in mind that when the weather cools down the bite generally heats up.
Wade-fishing in smaller streams like the Doe and Elk rivers, Beaverdam Creek and Laurel Creek around the Pond Mountain Wilderness offers especially rewarding opportunities for fly-angling purity and solitude.
"Feeder creeks into the larger rivers and lakes will generally have nice reproducing populations of wild rainbows," Shroyer said. "They don't necessarily get massive, although some of them can, but they are really nice fish."
Untamed Tailwater
For those serious about catching brawny, wild browns and bulky-bodied big-river rainbows, mid-to-late fall is prime on the region's premier tailwaters: the Watauga River in Carter County northeast of Johnson City and the South Holston in Sullivan County just south of Bristol. Both are considered top tier southeastern U.S. trout streams at any time of year. But at certain periods, like early spring and late autumn, they're positively world-class.
"Fall is a really good time to fish here for big browns," said Elizabethton-based fly guide Jason Reep. "They move out of the deep holes and up into the shallow water to spawn, and you have a pretty good chance of catching a really big one."
Famed Fisheries
"Even if you've landed more lunkers than you can recollect, you won't likely forget the pulse-pumping exhilaration of hauling a hefty autumn brown or bow from the swirling currents of a gorgeous Appalachian Mountain river. There are people who come a long way to fish the rivers up here. I hear from a lot of them that they had a better time here, that they caught just as many or more nice fish than they did on trips to Montana or Colorado or Wyoming or wherever," Reep added.
And the action usually stays hot throughout the winter. Trout Unlimited's quarterly magazine listed the South Holston and Watauga, as well as Tennessee's Clinch River, a half-hour's drive northeast of Knoxville, among America's great cold-weather river-angling destinations, alongside such legendary fisheries as California's Trinity River and Henry's Fork in Idaho.
Get Guided
For anglers planning to fish unfamiliar waters, consider hiring a local guide service. That short-term investment might pay off not only in a monster single-day angling experience, but the counseling, coaching and encouragement will boost skills and up the odds when anglers head out on their own later.
"Our rivers in this part of the country can be extremely technical. But if you can get dialed in and figure it out, they're incredibly rewarding," said Shroyer.
A life-long fisherman who has flicked fly patterns on lakes and rivers across the country, Reep never hesitates to hire guide when he explores uncharted territory.
"You can be the best fisherman in the world, and you're not going to out-fish the guy who's on that river daily," he said. "He knows every bug, every rock, every trout and what they're eating. You just can't beat the local knowledge of somebody fishing those waters every day."
Professional guides can not only provide instruction in the kinds of approach strategies, presentation tactics and appetizing-looking offerings that will net more fish, they offer informed perspectives on the history and conservation issues important for preserving and improving the fishery itself.
Learn about fishing hot spots in the region told through the stories of people and places by visiting the Tennessee River Valley Mapguide. All listings have been nominated by local people who know the region best and offer visitors the most unique, fun and interesting experiences. Click here for more information.