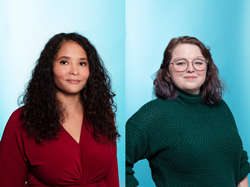 "We're committed to ensuring that our leadership, both within our agency and more broadly across our industry, is an accurate representation of the diversity we see in America," said Beall.
DALLAS (PRWEB) October 09, 2020
As organizations everywhere take purposeful steps to ensure that diversity, equity and inclusion (DEI) remain top of mind in the workplace, it's more important than ever to ensure that these are not only tangible, but enduring.
To remain accountable for lasting DEI efforts Idea Grove, a Dallas-based unified PR and marketing agency for B2B technology companies, has announced that it has joined the Diversity Action Alliance. A cohort of professionals working to accelerate positive progress in DEI across the communications profession, the Diversity Action Alliance's goal is to realize improvements for underrepresented groups through recruitment, talent retention and leadership. Specifically, the Alliance looks to make an impACT on the public relations and communications industry by:

Adopting best practices: Implement best practices that fit company's needs to allow continuous learning and growth in DEI
Championing the cause: Share how important DEI is to an organization and advocate for prioritizing workplace diversity measures that enable widespread accountability
Tracking diversity data: Key to remaining on the path for success, tracking efforts helps evaluate efforts to inform future, evolving strategy.
"We are pleased to have Idea Grove as part of the Diversity Action Alliance," said Carmella Glover, executive director, Diversity Action Alliance. "We look forward to witnessing how the agency takes action in helping move the needle on diversity, equity and inclusion across the communications profession with its dedication to this important movement."
To amplify this need for the intentional implementation of best practices within its organization and industry and to ensure accountability in tracking progress, Idea Grove convened a company-wide DEI Committee. Co-chaired by Talissa Beall, social media manager, and Lauren Wyder, search specialist, the committee works with the agency's 25+ employees to educate and inspire action on crucial DEI issues and initiatives.
"We're committed to ensuring that our leadership, both within our agency and more broadly across our industry, is an accurate representation of the diversity we see in America," said Beall. "While we recognize there is more work to be done, we understand that an equality-focused workforce is about more than policy—we must take deliberate action across operations, recruiting and hiring. It's important to us that we be the change we want to see in the world, which is why our committee has evaluated everything from our new website design that's coming soon to how we hire and where we recruit. We're educating ourselves every day on unconscious bias that is often overlooked—age, gender, sexual orientation, people with disabilities and people with different beliefs and views. Diversity and inclusion doesn't just start and stop with race."
Organizations interested in contributing to equal industry representation and inclusion can find additional information about the Diversity Action Alliance and explore helpful resources at http://www.diversityactionalliance.org.
"Joining the Alliance is just one way that organizations and professionals can contribute to improving industry representation and advancing DEI principles into everyday initiatives and actions," said Wyder. "We encourage our peers to examine their current DEI policies and work to proactively address areas of improvement for change that extends beyond their organizations and into their communities."
About Idea Grove
Since 2005, Idea Grove has distinguished itself as that rare agency that truly understands growth-oriented B2B technology companies and their buyers. Idea Grove's unified PR and marketing service offering has been built from the ground up with the specific challenges of B2B tech in mind, including grasping complex technologies, maintaining momentum through long sales cycles, and influencing the decision-making of both business and IT buyers. Idea Grove can be reached at inquiries@ideagrove.com or 972.235.3439.