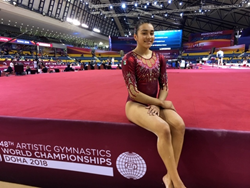 Frida was the highest scoring athlete for the team, and her efforts were so successful that Team Mexico made it into 19th place.
(PRWEB) December 07, 2018
The 2018 Artistic Gymnastics World Championships in Doha, Qatar, this October was filled with epic performances. One of the strongest and most beautiful performances was given by Bay Area teen Frida Esparza, who just came from competing a few weeks earlier at the Pan American Championships in Lima, Peru.
The 48th Artistic Gymnastics World Championships is a qualifier for the 2019 World Championships, which is in turn a qualifier for the 2020 Olympics. This year, Mexico sent five female athletes to the Championships, including Ms. Esparza. The Mexican team's main goal was to make it to the top 24 in order to qualify for the 2019 World Championships. Frida was the highest scoring athlete for the team, and her efforts were so successful that Team Mexico made it into 19th place. At next year's World Championships, Mexico will need to make it into the top 12 to qualify for the Olympics.
This was the first World Championships for both Ms. Esparza and Head Over Heels elite coach Katreece Stone. Frida did an outstanding job and performed smooth, graceful routines. The World Championships is the second most important gymnastics competition in the world, second only to the Olympics. When asked how the World Championships differed from the Pan American Championships, Frida grins. "The whole world was there. There were a lot more girls at the World Championships who had been to the Olympics or multiple World Championships before. Also, the World Championships was on podium, so everything was elevated. It was like everything was on a stage, and I had to climb stairs to get to the top every time. For my floor routine, it felt like if I went out of bounds I might run out of floor, which was a little scary, but it wasn't too bad." Additionally, Ms. Esparza enjoyed seeing the different types of competition styles. "People like Simone Biles are really good at tumbling, but girls from the Netherlands did these amazing leaps and showed emotion on the floor through their dancing."
Ms. Esparza is happy with her performance on the whole, and although she missed her goal of individually landing a spot in the top 24, she did get 27th place out of all the female artistic gymnasts in the world, and her friends and family are extremely proud of her. Frida says that if she could change anything, she'd have smoothed out her beam routine. Two of her teammates had already had difficulty on the beam before her, so when she mounted up, she knew that she had to focus more on doing well for her team than doing well individually.
The Championships involved many days of practices and competitions, resulting in a three-week stint in Qatar. While there, Frida and her teammates experienced a trip to a safari park and the wonders of the Villaggio shopping mall, a vast Italianate space of columns and archways spread beneath a lighted ceiling painted to look like the sky that offered a graceful canal complete with gondolas. Back home in the Bay Area once more, Ms. Esparza and Coach Stone are currently working on Frida's routines and continuing to hone her skills for the 2019 World Championships, her ultimate goal being to qualify for the 2020 Tokyo Olympics.