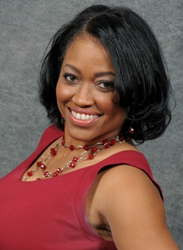 I will be a positive influence on others and will encourage them to give their best. I will surround myself with positive people who will also encourage me to be my best.
Chicago, IL (PRWEB) October 28, 2014
Talayah Stovall is the author of two incredible books on finding inner strength and natural gifts, including Crossing the Threshold: Opening Your Door to Successful Relationships, published through Next Century Publishing, and Lightbulb Moments: 75 Lessons for Everyday Living, published by Hay House. These books empower both women and men to discover their purpose, passion and faith as well as set clear, actionable goals for the future, whether they are seeking a relationship, building wealth or trying to achieve any other goal.
Through her written work, Talayah Stovall shares her personal anecdotes to illustrate larger truths, such as understanding the value of friendship and love. Using "Light Bulb Moments" to show how her teachings can be applied to everyday life, Talayah Stovall inspires readers to pursue greatness and create a vision for life to guide them to their goals. Mark Victor Hansen, author of the Chicken Soup For The Soul series of books, says, "Everyone wants more love, light, joy, and energy in their lives. Occasionally, all we need is to drink deeply of someone else's story to reignite ours. Here is just such a book," of her Lightbulb Moments.
Now Talayah Stovall is available to conduct workshops and conferences for companies that need inspirational speakers to motivate their employees. Talayah can focus on relationship and communication skills, including networking, building healthy professional relationships, polishing presentation skills and establishing a personal brand; goal-setting and time management; and coaching and teambuilding, including personal breakthroughs and life purpose assessments. She addresses groups of all sizes with her infections enthusiasm and positive outlook.
More information about Talayah Stovall is available at http://talayahstovall.com/coaching/. In order to book Talayah Stovall for a speaking engagement, contact Shannon Lutz, Shannon(at)ReadersLegacy(dot)com, or call (702)912-2405.
About Talayah Stovall
Talayah Stovall is the President of TGrace, as well as a respected author, speaker, and certified life purpose coach. She also publishes the newsletter, "EmPOWERed to..." and produces the "EmPOWERed to..." radio show. Ms. Stovall takes as her mission the empowerment of people to achieve their own goals and live their dreams. She is an adjunct instructor at Columbia College in Chicago and is the author of "Crossing the Threshold: Opening Your Door to Successful Relationships" published by Next Century Publishing, and "Light Bulb Moments: 75 Lessons for Every Day Living," published by Hay House on June 9, 2014, as well as the eBook, "150 Important Questions You Should Ask Before You Say 'I Do,' " and two motivational audio CDs, "P.U.M.P. It Up!" and "7 Secrets to Ignite Your Dreams."