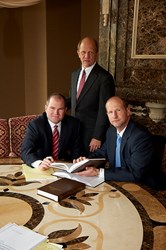 St. Louis, MO (PRWEB) December 16, 2013
The Onder Law Firm, a leading national firm in the area of family safety law, announces the launch of a Talcum Powder Cancer Lawsuit Center website. The site provides comprehensive information on the connection between talc-based baby powder and ovarian cancer in women, and talcum powder cancer lawsuits. Multiple scientific studies, including a meta-analysis of studies conducted of nearly 12,000 women published in the journal Anticancer Research in 2003 (http://www.ncbi.nlm.nih.gov/pubmed/12820486/), have found that weekly perineal dusting of talcum powder increases a woman's risk of contracting ovarian cancer by 33%. Despite evidence from four decades of scientific research on the topic, talc is not regulated for use in cosmetics in the United States. Ovarian cancer is a deadly disease which will claim an estimated 14,030 women during 2013, according to the American Cancer Society (http://www.cancer.org/cancer/ovariancancer/detailedguide/ovarian-cancer-key-statistics).
The first talcum powder ovarian cancer lawsuit was filed against Johnson & Johnson and the talc-mining companies Luzenac America and Rio Tinto Materials in 2009 and won earlier this year. A federal jury in South Dakota found that the plaintiff's diagnosis of ovarian cancer was linked to her regular use of Johnson & Johnson talcum powder products over the three decades prior.
Baby powder cancer lawsuits are just one type of product liability lawsuits Johnson & Johnson has faced in recent years. In addition to the dangers connected with its baby powder and body powder products, Johnson & Johnson has issued major recalls for faulty DePuy hip replacement systems (MDL 2197, U.S. District Court, Northern District of Ohio), many of its Tylenol products, and Bausch & Lomb contact lenses, among many others.
The Onder Law Firm is now investigating cases in which women who have been diagnosed with ovarian cancer and have a history of talcum powder use for perineal hygiene. The Onder Law Firm is known for its expertise representing the interests of individual Americans and their families who have been harmed by dangerous or defective products against enormous entities including cosmetic, pharmaceutical, and medical device corporations. Persons or family members of persons in the United States who have suffered ovarian cancer after talcum powder use may contact an attorney at The Onder Law Firm through the group's talcum powder cancer website in order to learn more about their legal options or receive a free case review.
The Onder Law Firm also welcomes talcum powder lawsuit inquiries from other law firms, either to handle these inquiries or work as co-counsel.
About The Onder Law Firm
Onder, Shelton, O'Leary & Peterson, LLC is a St. Louis based personal injury law firm handling serious injury and death claims across the country. Its mission is the pursuit of justice, no matter how complex the case or strenuous the effort. Onder, Shelton, O'Leary & Peterson has represented clients throughout the United States, and other firms throughout the nation often seek its experience and expertise on complex litigation. It is a recognized leader in products liability cases such as window blind cord strangulation and pharmaceutical litigation. The Onder Law Firm's talcum powder cancer lawyers provide information to the public at http://www.talcumpowdercancerlawsuitcenter.com.