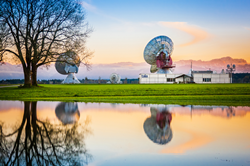 "We are proud to celebrate our 10 year anniversary at Raisting by once again receiving WTA's endorsement." - Alan Afrasiab, CEO and President of Talia Limited
RAISTING, Germany (PRWEB) November 12, 2019
Talia Limited, a leading communications solutions provider serving the Middle East, Africa, Europe and the Americas, today announced that its Raisting teleport has confirmed Tier 3 Certification under the World Teleport Association's (WTA) Teleport Certification Program.
The purpose of the program is to create an objective, transparent and internationally accepted method for teleport operators to certify the quality of their operations, as well as for customers to determine the level of competence and service provided by the teleports.
To achieve Full Certification under WTA's program, a teleport operator is required to complete a 170-plus-item questionnaire and submit it to WTA. The association analyses the data and issues a provisional certification based on the self-reported information. Thereafter, an auditor is dispatched to visit the teleport, provide independent validation of the data submitted in the questionnaire and identify additional factors that may positively or negatively affect the score.
"Certification supplies the crucial missing answer to the teleport customer's biggest question: what quality of service will I really receive?" said Executive Director, Robert Bell. "Independent, standards-based evaluation and validation sets teleport operators apart and assures customers that they will receive the price-performance outcome they expect."
"With the WTA's Certification program being launched in 2015, Talia's teleport was the very first teleport to receive Full Certification at any tier in 2016. This year marks the 10th anniversary of our Raisting teleport and we are proud to celebrate this major milestone by once again receiving WTA's endorsement," says Alan Afrasiab, CEO and President of Talia Limited.
"Since 2009, Talia has built a reputation for delivering trusted reliable and cutting-edge connectivity and communications services provided through our teleport in Raisting. Our customer-focused team works around the clock to provide clients with 24/7 customer support without interruption," continues Mr. Afrasiab.
The renewal of WTA's Tier 3 certification confirms Talia's commitment to delivering high-quality services to unconnected communities across the world, as well as to working alongside strategic partners who continue to trust Talia for its first-class level of operations.
For more information regarding Talia's services visit http://www.talia.net