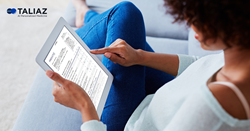 Receiving CE certification for PREDICTIX Digital is an important milestone for Taliaz, and a major step forward in our continued expansion of our pioneering PREDICTIX technology into Europe and other new markets
TEL AVIV, Israel (PRWEB) December 09, 2020
Taliaz, a mental health startup harnessing artificial intelligence (AI) to revolutionise mental health treatment and management, today announced it has completed CE Certification for its second product, PREDICTIX Digital. The registration of its digital decision-support and management solution will provide European health care and telehealth providers, psychiatrists and General Practitioners (GPs) with instant digital prescribing recommendations to rapidly optimize mental health treatment and management, while lowering costs.
Today, there is a growing economic burden on the European health system associated with diagnosing and treating mental health disorders, which has accelerated during the COVID-19 pandemic. More than 84 million people alone are estimated to suffer from mental health disorders in Europe.
With a high burden on health systems, there is a growing demand for specialist psychiatrists, yet growing waiting times to access care. This means the majority of workload falls on non-specialist Primary Care Physicians (PCPs). Currently, 80% of antidepressants are prescribed by a PCP with limited tools for treatment selection success and limited time to spend with patients. This often results in a long and painful trial and error process for patients.
PREDICTIX Digital harnesses AI to empower every doctor, whether a specialist psychiatrist or GP with instant prescribing recommendations during a patient's face-to-face or virtual visit, in as fast as 5 minutes. While improving doctor's efficiency and quality of care, PREDICTIX Digital can also be easily scaled and deployed as part of any telehealth solution to expand reach and lower costs of mental health care throughout Europe.
Starting in the field of depression, PREDICTIX Digital uses AI to analyse patient's complex clinical and demographic data. It then translates these thousands of data combinations into an easy-to-use patient recommendation report that ranks antidepressants by their predicted efficacy and anticipated side effects.
Together with Taliaz's CE-registered product, PREDICTIX Genetics, that also integrates a genetic analysis for precision prescribing, this CE certification paves the way for European launch of Taliaz's comprehensive PREDICTIX technology. PREDICTIX can improve today's prescribing accuracy by 47%* compared to today's standard of care.
"Receiving CE certification for PREDICTIX Digital is an important milestone for Taliaz, and a major step forward in our continued expansion of our pioneering PREDICTIX technology into Europe and other new markets," said Dekel Taliaz, CEO and co-founder of Taliaz. "European psychiatrists and GPs are struggling to keep up with the growing mental health burden driven by COVID-19. PREDICTIX Digital provides the first completely AI-driven digital solution to personalize mental health treatment and management that can help significantly reduce this economic burden. We look forward to working with European partners to provide this critical missing link and help patients get the right treatment the first time."
This announcement follows Taliaz's recent $2.7 Million EU Horizon funding award, as well as its new partnership agreement with molecular diagnostics leader, Genetic Technologies, for the distribution of its PREDICTIX products in Australia, New Zealand and the USA, pending regulatory approval.
Taliaz is currently in the process of raising an additional round of investment to further accelerate and expand commercial efforts with mental health providers, healthcare systems, and both private and public payers globally.
*Based on a retrospective analysis of STAR*D study medications versus current clinician treatment selection prescribing accuracy (Chekroud et al., 2016). STAR*D is one of the world's largest prospective studies for optimal antidepressant administration.
About Taliaz
Taliaz is revolutionizing the treatment and management of mental health disorders with PREDICTIX. PREDICTIX is a family of CE-registered products that provide an advanced decision support software for psychiatrists and general practitioners. Harnessing artificial intelligence, PREDICTIX can enable easy, effective and rapid patient assessment, improved prescribing precision and management for a wide range of mental health conditions. Starting in the field of depression, the PREDICTIX Genetics and PREDICTIX Digital products can improve today's prescribing accuracy by up to 47%*.
For more information, please visit predictix.ai.