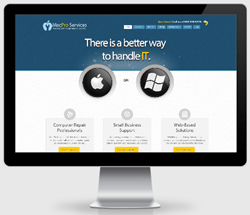 A website is like a business card was 5 years ago - without it, you lack credibility.
Tallahassee, FL (PRWEB) July 31, 2013
Tallahassee website design firm, MacPro Services, recently launched their new website. MacPro Services initiated a complete site redesign in order to provide easier access to information and services. The website design firm also wanted their site to be compatible on mobile devices so that their clients could easily navigate their site and obtain the highest quality technical support regardless of their browser or device.
In addition, as part of this site-wide update, MacPro Services is launching free online training courses, which will be released in the coming months. These courses will teach and test everything from basic computer skills to more advanced photo editing tools.
Business owners, no matter how small, should own a website to carry credibility. However, a website also needs a unique design to attract and keep the attention of clients. That's where you need a local website design firm to assist you in achieving your goals. MacPro Services provides website design in Tallahassee, Florida and surrounding areas to help achieve these goals, with packages starting at $2000.
MacPro Services specializes in not only creating great looking sites, but training business owners to easily update their site with fresh content – saving money, increasing interest in the website and ensuring accurate and up-to-date information.
MacPro Services provides Apple and Macintosh computer repair as well as PC computer repair and networking for small businesses and homeowners. The dedicated technicians at MacPro Services ensure that each client receives competent services at their own convenience. Additionally, since MacPro Services provides on-site support, each client can receive the support they require in the comfort of their own business or home.
About MacPro Services
MacPro Services is a Tallahassee computer repair and consulting firm that offers PC and Mac computer repair, small business solutions, website design and search engine optimization (SEO). MacPro Services has been in business since 1985 and has served the Tallahassee for over 10 years.