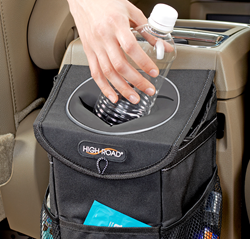 "The StashAway trash containers' new StuffTop design makes it easy and convenient for consumers to keep their cars clean and trash out of sight." David McClees, President and Founder
PORTLAND, Maine (PRWEB) November 20, 2018
With two newly-issued patents and number-one rankings on prominent online marketplaces, High Road® is one step closer to fulfilling its ambitious mission, to put a High Road Car Organizer in every car in America.
Two new StashAway™ car trash stations have been awarded US patents. These cover the integrated functional design elements featuring an exclusive StuffTop cover, making it easy for drivers and passengers to stuff trash in while the lid is closed, keeping odors contained and trash invisible. The High Road StashAways are fully leakproof to protect car carpets and upholstery, and include unique side braces that structurally support the shape and stability of the trash bins. The StashAway Seatback Station hangs from the seat headrest within convenient reach of the driver as well as backseat passengers. The StashAway Console Trash Station sits in the back on the 'hump' between the seats - a cinch-lock cord secures the trash bin to the console lid, making it easily accessible for driver and passengers alike.
Also new to the line up, the StashAway Console Station is now available in two solid colors and two patterns to coordinate with most vehicle interiors. Patterns include a gray polka dot and traditional southwestern design called Baja. Solid color offerings include black and gray, with new pattern options in the design stage.
Talus's president and founder, David McClees, notes: "The StashAway trash containers' new StuffTop design makes it easy and convenient for consumers to keep their cars clean and trash out of sight. Consumers that purchase from us online recognized this immediately and snapped them up. A bunch of cheap knockoffs quickly came onto the market, but now that the US Patent Office recognized our originality and innovations with two patents, we can make sure consumers get a well-made, high performing product at a fair price."