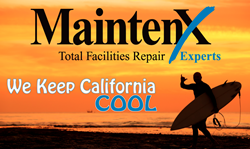 We are very excited about how we are expanding our presence on the West Coast.
TAMPA, Fla. (PRWEB) July 26, 2019
MaintenX, one of the nation's largest facility maintenance companies, is pleased to announce the opening of its new California location at 6190 Fairmount Avenue in San Diego. As part of its mission to serve companies curb to roof and coast to coast, MaintenX has invested in a larger facility to allow for continued growth in the Western US market. This location replaces MaintenX's previous San Diego location. The new office features parking and warehouse space for storing equipment, generators and vehicles when not in use.
Bill Schaphorst, MaintenX's VP of Development, spoke about the significance of the new San Diego office.
"Our strong growth as a company and workforce has created the need to expand our headquarters out west. We need the square footage and new warehouse to support our growth, new employees and our new customers. We are very excited about how we are expanding our presence on the West Coast," Schaphorst said. "As we have seen in recent years, California is vulnerable to earthquakes and fires. Our expanded office will allow our Disaster Recovery specialists to support our clients in California and get them back in business."
MaintenX also relies on the west coast operation when the east coast is experiencing any type of hurricane or natural disaster.
"With a team on the west coast, they can back us up. We have put technology in place that allows our operation and call center to be transferred to our San Diego office with the flip of a switch," Schaphorst said.
MaintenX provides facility maintenance repairs with self-performing technicians in more than 15 states, with offices in Tampa, San Diego, Charlotte, Orlando and Miami. As the company continues to grow, Jacksonville and Fort Myers are sites being considered for future office locations.
Though MaintenX is always ready to provide disaster recovery support to facilities, it also provides a full spectrum of facility maintenance services with a focus on safety and customer satisfaction. From HVAC and electrical to plumbing and roofing, MaintenX has you covered.
To learn more about MaintenX and the variety of services they provide, visit http://www.maintenx.com.
About MaintenX International:
MaintenX International is a fully licensed, facilities repair company. As one of the largest national self-performing facility maintenance and repair companies in the U.S., MaintenX has created a wide network of knowledgeable and professional technicians throughout the country. With their team of well-trained technicians, MaintenX self-performs and manages facility maintenance for their clients. In the event there is not a MaintenX technician in an area, the company has established a network of preferred vendor partners throughout the country for continued superior service for their clients. For more than 40 years, MaintenX has been expertly serving multi-location retail stores, restaurant chains and Fortune 500 companies nationwide.