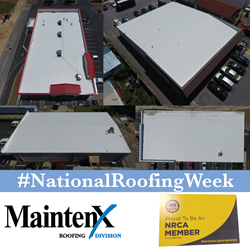 A healthy roof with the proper safety components is much less likely to blow off, leak, or give way under hurricane conditions.
TAMPA, Fla. (PRWEB) June 10, 2019
Roofing is one of MaintenX International's core competencies, a quality service led by a management team with over 80 years combined experience in the trade. The MaintenX team participated in National Roofing Week activities in partnership with the National Roofing Contractors Association (NRCA), of which MaintenX is a member.
Throughout the week, MaintenX contributed to the NRCA social media campaigns, with each day focusing on a different theme. Monday was Charitable Projects, followed by Employee Training, Employee Appreciation, Signature Projects, and finally a recap of the week's celebrations on Friday.
The timing couldn't be better, as the Atlantic Hurricane Season began June 1st. Researchers are predicting a season of average intensity, but MaintenX knows better than anyone that it only takes one intense storm to cause widespread damage, and an average season produces two to four major hurricanes. MaintenX technicians know it is never too early to prepare for a major storm, and a roofing inspection is an integral component of hurricane preparedness. No matter how sealed your windows and doors are, if your roof is breached or removed you can expect major damage.
In addition to the inspection, taking proactive steps to protect your property like investing in safety supplies, rehearsing your emergency plan, and fixing small hazards that can lead to major damage like loose tree limbs or clogged drains is essential.
"A strong roof gives peace of mind throughout hurricane season," said Bill Schaphorst, MaintenX's VP of Business Development. "A healthy roof with the proper safety components is much less likely to blow off, leak, or give way under hurricane conditions."
Having a comprehensive storm safety plan is always better than being caught off-guard. Commercial facility managers should assess facility parking lots and remove any potential hazards that could be blown around; loose items can turn into dangerous missiles under high wind conditions. Check parking lot drains to make sure they're not clogged; loading dock drains can also clog during a torrential downpour. Schedule maintenance to inspect a loading dock drain that floods after every heavy rain as an important step in ensuring your property is ready for a storm.
There are many factors to consider when preparing facilities for hurricane season. Facility managers trust MaintenX professionals to assess infrastructure and execute necessary repairs and preparations for hurricane season. For more information about MaintenX and the services they provide, visit http://www.maintenx.com/services.
ABOUT MAINTENX INTERNATIONAL:
MaintenX International is a fully-licensed, facilities repair company. They are one of the largest national self-performing facility maintenance and repair companies in the U.S. MaintenX has created a network of knowledgeable and professional technicians throughout the country. With their team of well-trained technicians, MaintenX self-performs and manages facility maintenance for clients. In the event there is not a MaintenX technician in the area, the company has fostered a network of preferred vendor partners throughout the country to provide superior service for their clients. For more than 40 years, MaintenX has been expertly serving multi-location retail stores, restaurant chains, and Fortune 500 companies nationwide.