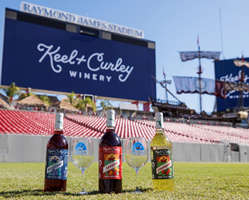 Keel Farms is proud to partner with the Tampa Bay Buccaneers. The Buccaneers embody the same never-quit attitude that has carried Keel Farms through over four decades of agriculture in Tampa Bay
TAMPA, Fla. (PRWEB) April 27, 2022
The Tampa Bay Buccaneers announced today a multi-year partnership with local winery Keel and Curley. As part of the agreement, the Plant City-based company becomes the team's official sangria partner.
"Keel Farms is proud to partner with the Tampa Bay Buccaneers. The Buccaneers embody the same never-quit attitude that has carried Keel Farms through over four decades of agriculture in Tampa Bay," said Keel Farms President, Clay Keel. "We're excited that fans will now have the chance to enjoy a locally made wine or cider while cheering on their favorite team at Raymond James Stadium. We also look forward to releasing special, commemorative products in the coming years to represent some of the incredible milestones in the history of Tampa's championship team."
Keel Farms produces high-quality beverages for those near and far. Rooted in a family-friendly environment, the local farm strives to create an atmosphere for everyone to make memories and enjoy locally grown food. In addition to gameday activations, this partnership will collaborate to create co-branded products, including commemorative wines, sangrias, and hard ciders.
"We are constantly looking for new ways to include local businesses in our gameday experiences," said Brian Ford, Buccaneers Chief Operating Officer. "Having both been part of the Tampa Bay region for decades, it is an honor to partner with Keel Farms as we look forward to providing unique wines and ciders for Buccaneers fans and everyone in the community."
About Keel and Curley Winery
Founded in 1984, the family-owned and operated Keel and Curley Winery is located 17 miles East of Tampa in Plant City. Started with just 10 gallons of blueberry wine in 2003, Keel and Curley Winery now produces over 500,000 bottles of wine annually, and offers visitors lunch and dinner daily as well as tastings, tours, events, and more. The winery also produces Keel Farms Agrarian Ciders, a line of delicious hard ciders made using Florida fruits.
About the Tampa Bay Buccaneers
The Tampa Bay Buccaneers are in their 47th year as members of the National Football League and compete in the National Football Conference's South Division. They were purchased by the late Malcolm Glazer in 1995 and are currently owned by the Glazer Family. Established in 1976, the Buccaneers have totaled seven division championships, two conference championships and two Super Bowl Championships, including Super Bowl LV that was played on their home field at Raymond James Stadium. The Buccaneers are also very active in the community, with the Tampa Bay Buccaneers Foundation and the Glazer Vision Foundation. For more information, visit http://www.buccaneers.com.
MEDIA CONTACTS:
Christian Schindler – ctschindler8023@gmail.com // 410-336-4862
Danielle Burns – dburns@buccaneers.nfl.com // 720-234-1422