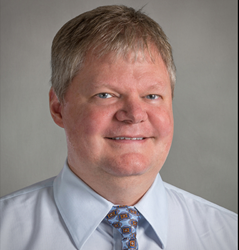 It's always an honor to be recognized by your peers."
TAMPA, Fla. (PRWEB) August 17, 2020
Dr. Howard McLeod, medical director at the Geriatric Oncology Consortium, has earned honors from the American Society of Clinical Oncology (ASCO).
Dr. McLeod earned the Fellow of the American Society of Clinical Oncology (FASCO) distinction for extraordinary volunteer service, dedication, and commitment from ASCO, the largest society of cancer treatment specialists in the world. His contributions include recent work chairing the annual New Drug Symposium, being a founding editor on the journal JCO: Precision Oncology, chairing the FDA Critical Path Subcommittee and chairing a TAPUR clinical study tumor board.
Dr. McLeod is the first cancer specialist in the Tampa area to receive the FASCO designation and the third in Florida. Dr. McLeod and Dr. Merry Jennifer Markham of the University of Florida received the designation this year.
"It's always an honor to be recognized by your peers," said Dr. McLeod. "The work we are doing to personalize treatment is important so when recognition comes it is deeply appreciated," he said.
Dr. McLeod works with the USF Taneja College of Pharmacy and the Geriatric Oncology Consortium. Dr. McLeod is an international expert in Precision Medicine, allowing patients to receive therapy aligned with their individual genetic code.
Precision Medicine is an emerging approach to treatment and prevention that considers individual variability in genes, environment, and lifestyle.
This approach allows doctors and researchers to predict which treatment and prevention strategies will work for a disease in certain groups of people, according to the U.S. National Library of Medicine.
In addition to his clinical and research duties, McLeod founded several Florida-based biomedical companies, including Interpares Biomedicine, which won BioFlorida's 2017 BioPitch Competition.
In June, Dr. McLeod was part of ASCO's three-day virtual scientific meeting, originally scheduled for Chicago. More than 42,700 attendees from 138 countries participated, learning virtually about new clinical cancer advances in every area of cancer research.
"With half of attendees joining from outside the U.S., this was truly an international meeting of the minds," said Howard A. "Skip" Burris III, then president of ASCO. "It is exciting to think how many new connections were made and collaborations were sparked. The next big cancer breakthrough could very well come from one of the virtual conversations that began at this meeting."
About ASCO:
Founded in 1964, the American Society of Clinical Oncology, Inc. (ASCO®) is committed to making a world of difference in cancer care. As the world's leading organization of its kind, ASCO represents nearly 45,000 oncology professionals who care for people living with cancer. Through research, education, and promotion of the highest-quality patient care, ASCO works to conquer cancer and create a world where cancer is prevented or cured, and every survivor is healthy. ASCO is supported by its affiliate organization, the Conquer Cancer Foundation. Learn more at http://www.ASCO.org, explore patient education resources at http://www.Cancer.Net, and follow us on Facebook, Twitter, LinkedIn, and YouTube.
MEDIA CONTACT: David Fierro (david@dfierrocommunications.com) 850.815.1621