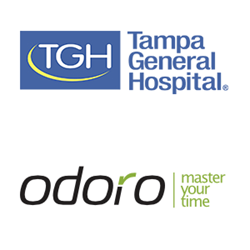 "Our patients are asking for a robust ability to find the right provider at a time when it's convenient for them. We are excited to partner with Odoro, because we think it will allow our patients to easily schedule their care" -Jason Swoboda, TGH
NEW YORK (PRWEB) January 07, 2020
Odoro, a leader in digital patient access solutions, today announced a new partnership with Tampa General Hospital (TGH), a recognized world-class hospital. TGH will adopt the Odoro digital platform, which gives patients fast and convenient online and self-scheduling 24/7 through multiple channels. The new partnership enables TGH to take its patient-centric approach to a new level with a mobile scheduling system that maximizes patient access and operational efficiency.
Harnessing Odoro's comprehensive and innovative platform, TGH can optimally match patients with the right provider for improved patient satisfaction and retention, while reducing rates of cancellations and no-shows. Patients with smartphones, tablets or computers will find the platform easy to use, but less tech-savvy patients also can enjoy fast and easy access to appointments through Odoro's Interactive Voice Response (IVR) solution.
"Our patients are asking for a robust ability to find the right provider at a time when it's convenient for them. We are excited to partner with Odoro, because we think it will allow our patients to easily schedule their care," said Jason Swoboda, Associate Director of Emerging Technologies and Health Innovation at Tampa General Hospital. "Our patients expect to find and book appointments with the right provider quickly and easily with no waiting. Odoro's innovative platform enables Tampa to deliver a patient-centric experience."
TGH selected the Odoro solution for its capabilities to create fully customizable digital scheduling workflows that consider complex business logic and patient-provider preferences. Seamlessly integrated into Tampa's website, Odoro's matching algorithm, Schedlogic™, allows patients to easily find their optimal provider instantly 24/7. Accessible through Tampa's website on any mobile/tablet device, the new real-time solution will also streamline the intake process and improve referrals management to further enhance patient engagement, while also driving operational efficiency.
"With patients now acting like consumers when choosing their providers, delivering a seamless digital front door experience is now even more critical than ever for health care organizations," said Ohad Ranen, Odoro CEO. "We are therefore delighted to partner with Tampa to deliver a complete experience that makes finding, scheduling and accessing the right provider, easy, convenient and quick – much like shopping on Amazon."
About Tampa General Hospital
Tampa General Hospital, a 1007-bed non-profit academic medical center, delivers world-class care as the region's only center for Level l trauma and comprehensive burn care. It is one of the nation's busiest adult solid organ transplant centers and is the primary teaching hospital for the USF Health Morsani College of Medicine. With five medical helicopters, Tampa General Hospital transports critically injured or ill patients from 23 surrounding counties to receive the advanced care they need. Tampa General houses a nationally accredited comprehensive stroke center and its 32-bed Neuroscience Intensive Care Unit is the largest on the West Coast of Florida. It also is home to an 82-bed Level IV neonatal intensive care unit, and a nationally accredited rehabilitation center. Tampa General Hospital's footprint includes 14 Tampa General Medical Group Primary Care offices, TGH Family Care Center Kennedy, TGH Brandon Healthplex, TGH Virtual Care and 15 outpatient Radiology Centers. Tampa Bay residents also receive world-class care from the TGH Urgent Care powered by Fast Track network of clinics, and they can even receive home visits in select areas through TGH Urgent Care at Home, powered by Fast Track. As one of the largest hospitals in Florida, Tampa General Hospital is first in the state to open a command center in partnership with GE Healthcare. For more information, go to http://www.tgh.org.
About Odoro
Odoro is a leader in digital patient access solutions that support health systems to implement digital strategies that dramatically improve the front door experience. Taking into account patient-provider preferences and business logic, Odoro uniquely enables full customization and rapid implementation of health system's very complex patient access workflows. Powered by its smart matching algorithm, SchedLogic™, Odoro ensures patients are rapidly matched with the right care provider at the right time for improved patient satisfaction and operational efficiency. Using Odoro's suite of digital solutions, health systems can now deliver comprehensive patient self-scheduling, streamline intake and enhance referrals management across enterprise-wide points of access. To learn more, please visit: http://www.odoro.com
Linkedin: Odoro, Inc.
Twitter: @OdoroHealth
Facebook: PatientScheduling