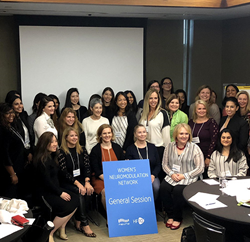 Nevro hosted the event to focus on the growth and support of women in neuromodulation.
TAMPA, Fla. (PRWEB) November 20, 2018
Tampa Pain Relief Centers' Olena Zhukova, ARNP joined the largest Women's Neuromodulation Network meeting for interactive discussions on topics including:

Optimal Clinical Practice Models
Evidence-Based Medicine – Trends in SCS Market
Complex Case Studies and Managing Complications
Contracts and Reimbursement - Including NevroCare
HF10 Matters Campaign - Patient Story Successes
Powerful Podium Presentations
Guest Speaker - Women in Leadership - "Power Dynamics - From the Exam Room to the Board Room"
Nevro held the women's networking event to advance the understanding of HF10® (high frequency spinal cord stimulation) and provide presentations on related topics from clinical and procedural standpoints.
Nevro HF10 is a spinal cord stimulation (SCS) therapy that alleviates pain via electrical pulses delivered to small electrodes on leads placed near the spinal cord. The device provides relief by modulating pain signals before they reach the brain, and without producing the buzzing sensations required by previous SCS technologies. It is most commonly recommended for a condition known as Failed Back Surgery Syndrome (FBSS).
Tampa Pain Relief Centers is proud to support the advancement of such remarkable innovations in the treatment of chronic pain conditions, encouraging PRC provider attendance for greater knowledge and awareness of effective new pain management solutions.
ABOUT OLENA ZHUKOVA, ARNP
Olena Zhukova received her Bachelor of Science in Nursing from St. Petersburg College and her Master of Science in Nursing from the University of South Florida. She is a member of the American Association of Nurse Practitioners and was a recipient of the Lee and Victor Leavengood Endowed Scholarship in 2012.
Olena worked as an RN in multiple settings, including critical care and progressive acute care, before becoming an ARNP in 2013.
ABOUT PAIN RELIEF CENTERS
At Pain Relief Centers, our pain management specialists focus on providing comprehensive, personalized care for each patient. The highly-skilled providers at PRC take a multidisciplinary approach to advanced pain management, assessing your individual needs to more effectively relieve your chronic pain and restore your quality of life.
PRC's board-certified, fellowship-trained physicians are equipped with state-of-the-art technology and a comprehensive, multimodal approach to treating your chronic pain. Relieving your pain and ensuring your comfort are top priorities at Pain Relief Centers.
If you are tired of living with chronic pain and want more information on options for minimizing or eliminating your suffering, contact Pain Relief Centers today at (800) 215-0029 or visit http://www.YourPainReliefCenters.com to set up a consultation at one of our clinics.