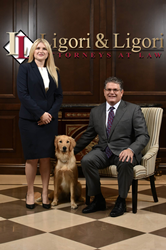 This is an exciting change for the firm. I look forward to this wonderful opportunity to work with my father in a different capacity. In this role, I will continue to fight diligently for the highest compensation possible for our client's personal injury claims, says Meaghann Ligori
TAMPA, Fla. (PRWEB) January 27, 2020
Ligori & Ligori Attorneys at Law, a reputable personal injury law firm in Tampa, is pleased to share that attorney Meaghann Ligori has been promoted to name partner. Meaghann Ligori is the daughter of the firm's founder, injury lawyer Keith Ligori. Meaghann Ligori has been working as an associate member of the legal team at Ligori & Sanders and is known for her excellent work as an advocate for victims of negligence. Keith Ligori is thrilled and proud that Meaghann has decided to join the family business as a partner.
After graduating from Stetson College of Law in 2017 and passing the Florida Bar, Meaghann worked as a prosecutor at the Office of the State Attorney for the 13th Judicial Circuit. While there, she developed invaluable legal skills before becoming an associate attorney at Ligori & Sanders. Meaghann is a member of the Florida Bar, the United States Middle District of Florida, Florida Justice Association, Tampa Bay Trial Lawyers and Hillsborough County Bar Association.
"This is an exciting change for the firm. I look forward to this wonderful opportunity to work with my father in a different capacity. In this role, I will continue to fight diligently for the highest compensation possible for our client's personal injury claims," says Meaghann Ligori.
Ligori & Ligori has offices in Tampa, Lakeland and Ocala, Florida, serving clients needing legal assistance in acquiring compensation for their injuries. Ligori & Ligori Attorneys at Law handles a wide variety of personal injury lawsuits, including those involving auto accidents, property damage, wrongful death, negligence and more. The practice was established with a mission to provide personalized, attentive legal representation for personal injury clients while leveraging resources and experience to help them obtain fair compensation for their loss.
For more information about Meaghann Ligori or the legal services offered at Ligori & Ligori Attorneys at Law, please visit http://www.callmeonmycell.com, or call the Tampa office directly at (813) 254-7119.