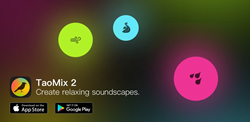 It's also a good way to raise people's awareness to sound ecology.
Montreal, Canada (PRWEB) August 18, 2017
Available today on Google Play, TaoMix 2 makes it easy for anyone to create custom soundscapes to relax, meditate and sleep better. For this occasion, the full version of the app will be completely free.
In this sequel to the first TaoMix app, users can collect and mix more than 130 carefully handpicked sounds to create dynamic soundscapes that evolve randomly over time, for a perfect immersion. They can also record and mix their own sounds to create truly unique and memorable soundscapes. The timer can be used to fall asleep or to set a time limit to a relaxation, meditation or yoga session.
The iOS version of the app is available since April 26, 2016. It has been featured by Apple in the "Best apps of 2016" and "Best Canadian startups" categories as well as on the App Store home page in the US, Canada, China, and many more countries.
"TaoMix 2 pushes the immersive experience one step further by adding randomness and customization to the soundscapes, while keeping a sleek and simple design," said Sebastien Mourey, co-founder of inookta studio.
"We think it's also a good way to raise people's awareness to sound ecology."
>>> Details of the offer, Availability
Until August 22nd 2017, the full version will be unlocked for free when the app opens, giving access to all 130+ high quality sounds, forever (a 10$ value). TaoMix 2 is available on Google Play in English, Spanish, French, German, Italian, Japanese, Korean and Simplified Chinese, and is compatible with any devices running Android 4.1 and up.
>>> Links
TaoMix 2 Website: http://inookta.com/taomix/
Google Play: https://play.google.com/store/apps/details?id=com.inookta.taomix2
App Store: https://itunes.apple.com/us/app/id1032493819
App Preview on YouTube: https://www.youtube.com/watch?v=FGXLAebgJlM
Press Kit: http://inookta.com/taomix/taomix2-presskit.zip
###
Sebastien Mourey
Co-founder & developer, inookta studio inc.
sebastien(at)inookta(dot)com
http://inookta.com/
Social: @inookta