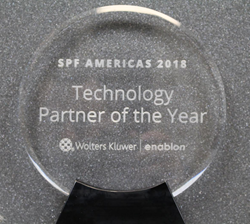 "Combining our expertise and connecting our platforms will make a real difference to our customers." - Dan Verlinde, Vice President and Chief Technology Officer
KNOXVILLE, Tenn. (PRWEB) August 29, 2018
TapRooT® and Enablon, a Wolters Kluwer business, and the world's leading provider of sustainability, EHS, and operational risk management software, successfully launched a partnership earlier this year. Both companies worked hard and tirelessly to achieve a seamless software integration and implementation into Enablon's platform.
Because, TapRooT® was so successful at integrating our software solutions with Enablon we were invited to attend Enablon's Paris Conference this past June. There we were delighted to receive the Technology Partner of the Year for Europe, the Middle East, and Africa. We were also honored and recognized at Enablon's Chicago Conference as their Technology Partner of the Year for North America.
"Combining our expertise and connecting our platforms will make a real difference to our customers. Incident data will be automatically synchronized, making the root cause analysis process easier and more efficient, and allowing action plans to be launched much faster," said Dan Verlinde, Vice President and Chief Technology Officer of TapRooT®.
TapRooT®'s reporting capabilities adds value to Enablon's clients by "increasing production effectiveness and reducing cost, which in turn adds business value to companies," said Taylor Allis, Vice President of Production at Enablon.
The Enablon-TapRooT® connector is available for customers using the Enablon 8.4 or 8.6 and Taproot 6.3 software versions.
To learn more about the Enablon - TapRooT® partnership click here.
About System Improvements Inc. – TapRooT®
Founded in 1988, TapRooT® solves hurdles every investigator faces. TapRooT® root cause analysis takes an investigator beyond his or her knowledge to think outside the box. Backed with extensive research in human performance, incident investigation, and root cause analysis, TapRooT® is a global leader in improved investigation effectiveness and productivity, stopping finger pointing and blame, improving equipment reliability, and fixing operating problems.
SOURCE System Improvements, Inc.