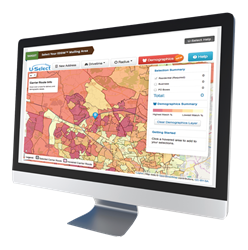 With one simple order, advertisers get design, printing, mail prep, postage, and delivery.
Richmond, Virginia (PRWEB) April 08, 2015
Richmond-based Taradel LLC, a leading marketing solutions provider, confirmed today it has mailed over 50 million Every Door Direct Mail® flyers and postcards. The company, recently named to the Inc. 500 for the 7th consecutive year, attracts a wide variety of business clients and partnerships with an innovative, self-service direct mail platform.
"Taradel has become a valued partner," said Karin Harrison, Marketing Manager for the Outdoor Living Brands franchise. "They bring new marketing solutions to the table and their full-service, turnkey, Every Door Direct Mail® program allows our franchisees to quickly plan an effective direct mail program."
The company's popularity with small business owners, national brands, and non-profit organizations stems from its simple and intuitive online mapping technology, which includes a proprietary ecommerce ordering process.
"Anyone can launch a turnkey direct mail campaign in about ten minutes from our website," says Jim Fitzgerald, founder and CEO of Taradel LLC. "With one simple order, advertisers get design, printing, mail prep, postage, and delivery. No waiting in line, no paperwork, and no hassles -- just a few clicks, and we handle everything for you."
Taradel's mail volume achievement dovetails with a resurgence in the popularity of direct mail marketing in the United States.
According to a recent report from Winterberry Group, a global strategic consulting firm, direct mail spend in 2014 grew 1.1% to $44.5 billion. Additionally, a consumer survey conducted by Epsilon Data Management revealed that 73% of consumers now prefer direct mail over other ad formats, including digital media.
###
About Taradel LLC
Taradel LLC is one of only 150 companies ever named to the Inc. 5000 for seven consecutive years. The company, founded in 2003, specializes in affordable marketing solutions for the purposes of targeted direct mail, graphic design, print advertising, and digital marketing.
EVERY DOOR DIRECT MAIL®, EDDM®, EDDM RETAIL®, EDDM BMEU™, UNITED STATES POSTAL SERVICE®, U.S. POSTAL SERVICE®, USPS®, U.S. POST OFFICE®, POST OFFICE™, and ZIP CODE™ are trademarks of the United States Postal Service® and are used with permission under license.