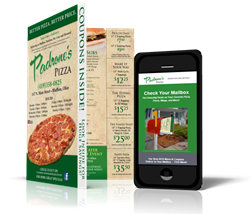 We sent a survey to over thirty thousand advertisers... they wanted acquisition-based email marketing...
Glen Allen, Virginia (PRWEB) March 28, 2016
Taradel, LLC announced today the launch of a new customer acquisition email marketing service that integrates directly with its flagship Every Door Direct Mail® technology. The new service enables advertisers to reach the same prospects, in defined geographic areas, with both physical and digital marketing communications.
"We sent a survey to over thirty thousand advertisers and business owners," says Jim Fitzgerald, founder and CEO of Taradel. "We asked them which marketing solutions they'd like for us to develop next. The respondents made it clear that an acquisition-based email marketing service, one that integrates with their direct mail campaign, would add the most value," added Fitzgerald. "So, we built one."
Integrated marketing is the new standard approach for advertisers. In an integrated campaign, the advertiser delivers the same message or offer to consumers, across multiple marketing channels such as direct mail, radio, social media, email, and others.
The integrated approach better connects with modern consumers, delivers multiple impressions, and reduces the risk that marketing communications are overlooked, or missed entirely. Further, research suggests that, on average, it requires seven or more impressions to influence a consumer's views or purchasing decisions.
Taradel's new integrated email marketing services offers three separate email communications, along with one physical direct mail piece delivery, for a total of four possible impressions on each applicable prospect.
"When a consumer receives an offer in their mailbox, it's powerful," says Chris Barr, Director of Marketing for Taradel. "They are forced to interact with the advertisement, which generates tremendous awareness about the product or service," he adds. "But when someone sees your offer in their mailbox, and their email inbox, it's even more powerful. It's a much deeper connection that can span the course of days, and even weeks."
The integrated email and direct mail service is now publicly available to all advertisers via the Taradel marketing platform, and also at EveryDoorDirectMail.com. The service includes triple opt-in and verified email addresses, free responsive html coding and design, and post-deployment performance reporting.
For more detailed product information, visit the company's Email Marketing FAQ.
About Taradel
Taradel makes it easy for businesses, franchisees, agencies, and organizations to deploy highly-targeted direct marketing campaigns in minutes. Only Taradel combines intuitive software, proprietary data analytics, and direct marketing experts to maximize conversions. Strategic, co-branded, and white-labeled partnerships with two Fortune 500 copy and print retailers, the U.S. Postal Service, Canada Post, and multiple franchisors have helped drive Taradel's eight consecutive year run on the Inc 5000. For more information, visit http://www.Taradel.com.