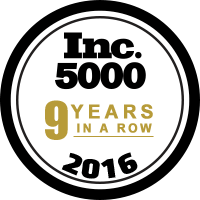 RICHMOND, Virginia (PRWEB) August 18, 2016
For the ninth consecutive year, Inc. magazine has named Taradel LLC to the list of the nation's fastest growing companies. The Richmond-based marketing powerhouse joins an elite group of only 143 companies ever to sustain such growth.
"This is an unbelievable honor," said Jim Fitzgerald, founder and CEO of Taradel. "I'm incredibly humbled by this accomplishment."
"I'll share our secret: We don't motivate people. We only hire people who are self-motivated and love what they do. When you do that and put your clients' interests first, the success comes naturally."
Taradel has climbed the Inc. 5000 list by 2,226 spots, with an impressive growth rate of 181 percent over the past three years.
Small business owner Tory Chlanda, president of Lawn Jockey Inc. in Amherst, Mass., believes Taradel's direct mail platform is the backbone of his landscape and construction firm's marketing.
"We are able to showcase our small business story and focus on specific demographics in a cost-effective way," Chlanda said. "We've been using Taradel's Every Door Direct Mail® platform to reach new customers since 2011."
The solution is affordable enough for Chlanda to send out more than 10,000 marketing brochures at a time, saturating his target market and driving sales.
Taradel at a Glance:

Founded in 2003 by CEO Jim Fitzgerald
Goes to market under Taradel and through strategic Fortune 500 partnerships
10,000 SMB customers
$10.9M revenue in 2015
30 full-time employees
4.8 out of 5 star consumer rating
More than 10,000 advertisers have used Taradel's integrated marketing and web-to-print platforms since 2003.
About Taradel: Taradel is a full-service marketing firm and perennial Inc. 5000 company. Our mission is to make marketing easy by re-thinking existing marketing platforms, developing better solutions and providing advertisers with affordable, agency-quality results. For more information, visit http://www.Taradel.com
###