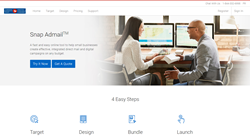 This is smart marketing for the digital age
RICHMOND, Va. (PRWEB) September 05, 2018
Taradel LLC announced today the release of Snap Admail™ Plus, a multi-channel marketing solution that enables advertisers to target the same prospects with direct mail offers and online display advertisements.
"This is smart marketing for the digital age," said Jim Fitzgerald, founder and CEO of Taradel LLC. "With one click, advertisers can extend the life and reach of every direct mail offer — and connect with the best prospects across channels."
Snap Admail™ Plus campaigns include professional design, coding, hosting and distribution, along with post-deployment performance reporting. The service is available to advertisers anywhere in Canada and the ads are designed to closely match their printed counterparts.
As a licensed vendor for the Canadian Census, Taradel and its partners compile offline data in Canada at both the household and Postal Code level. This includes demographics such as home value, household income, and other data at the six digit postal code level. Then, the data is aggregated and de-identified to comply with Canadian laws and local regulations. Now marketers can send display advertising to exactly the same households receiving their direct mail offers.
According to the website, research suggests that bundling direct mail with digital advertising provides an average of 39% more attention over standalone direct mail campaigns. For small business owners who rely heavily on direct mail marketing to generate sales, the new service provides a welcomed boost.
"It's a quick to use system…," said Ruben Frankish, a marketing professional with Ontario-based telecommunications service, SSi Micro Ltd. "It makes the job easy."
To date, Snap Admail™ has a 4.4 out of 5 star rating by verified customers through the third-party Shopper Approved consumer ratings service.
Snap Admail Plus is available for immediate use at https://www.canadapost.ca/sam/.
About Taradel LLC
Taradel LLC is a multinational corporation with offices located in the United States (Taradel LLC) and Canada (Taradel Canada Inc.). The company, founded in 2003, is one of few companies to be named to the Inc. 5000 for eleven consecutive years.
Snap Admail™ Plus is a registered trademark of Canada Post Corporation in Canada and/or other countries. The names of actual companies and products mentioned herein may be the trademarks of their respective owners.