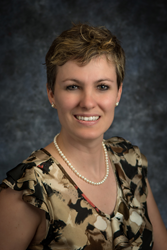 "Finances are only a piece of our lives, but one that affects all of the other pieces. I can serve individuals and families as a financial coach … and that's priceless." -Taren McMurray, Financial Planner, Family Investment Center
LENEXA, Kan. (PRWEB) October 18, 2018
As complexity increases toward financial decisions across all walks of life, Family Investment Center announces that Taren McMurray has passed the Series 65 Uniform Investment Advisor Law Examination.
McMurray is a financial planner at Family Investment Center's Lenexa, Kan. office, serving clients across the Kansas City region and the nation. She views her role as similar to that of a coach. "I can serve individuals and families as a financial coach, helping them identify the plays that help them win the game. That's priceless."
"When the term 'financial freedom' is mentioned, it stirs up a variety of emotions in people. I see my job as helping to educate clients about the meaning of this term, what steps they can take to make it happen, and the timeframe in which they can expect to achieve it," she says. "There is no better satisfaction than meeting with a client and revealing to them that they have reached a goal they set for themselves years earlier."
McMurray joined Family Investment Center's financial planning team in January of 2018. She relocated to Kansas City from a small community in southeast Kansas in 2001 to attend MidAmerica Nazarene University, where she received her B.A. in Accounting in 2006. She completed training at the School of Banking's School of Trust and Financial Services in 2007, received her Enrolled Agent Certificate of Enrollment in 2010, and passed the NASD Series 65 Uniform Investment Adviser Law Examination in October of 2018. McMurray has been an active member of the Greater Kansas City Financial Planning Association since 2007 and the National Association of Enrolled Agents since 2011.
"Our financial lives are more complex than we like to admit. Taxes, investments, health care options, job opportunities, monthly cash flow … the list goes on. Finances are only a piece of our lives but one that affects all of the other pieces," explains McMurray. "Just as people acknowledge their need for a doctor for their physical health, I believe if a person values maintaining their financial health, they should shop for and enlist the help of a financial 'doctor.' This professional can get to know how their individual and specific financial situation works, the ways in which it can break down, how problems can be solved, and what measures the person can take to prevent future issues from happening."
As an advisor, McMurray also strives to help clients be ready for change, with a focus on education toward financial resources and strategies.
"With so many changes on the horizon, a financial professional can bring focus and clarity, which helps shape and determine a person's future in all of the other areas of life. Education about financial planning is so important. Life happens, and you never know when you may have to move from the passenger to the driver's seat," says McMurray.
Read more at: http://www.familyinvestmentcenter.com/meet-our-team
About Family Investment Center
Reflecting an unconventional approach to investing and financial planning, Family Investment Center invites clients to "plan for some serious freedom." Now in its third decade of service, Dan Danford is Founder/CEO of Family Investment Center, a pioneer among commission-free investment advisory firms. Richard C. Salmen serves as President of Family Investment Center. Salmen also serves as the 2018 Chairman of the CFP Board national board of directors.
With a team of professionals at offices in St. Joseph, MO, and Lenexa, KS, Family Investment Center brings a client-focused philosophy to individuals and families in the Kansas City area and across the country.
Media sources who have interviewed or quoted the Family Investment Center team include The Wall Street Journal, The New York Times, CBNC, Barron's, InvestmentNews, BusinessWeek, Forbes, U.S. News & World Report, The Kansas City Star, the Chicago Tribune and others.