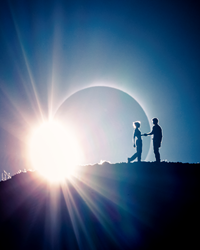 The eclipse scene was always going to be intense," says Lexton. "We filmed an event that lasted two minutes. We scouted locations for months to find the exact right position. We sourced special lenses and gear. The actors had to be perfectly rehearsed. It was equal parts exhilarating and terrifying
LOS ANGELES (PRWEB) July 02, 2019
Filmmaker Taron Lexton took his sophomore feature film NOMAD to soaring heights when principal photography began July 2nd in Elqui Valley, Chile. During the only total eclipse of 2019, Lexton, accompanied by a small film crew and adventure photography sensation Ted Hesser, had just two minutes and eighteen seconds to capture the first shot.
"The eclipse scene was always going to be intense," says Lexton. "We filmed an event that lasted two minutes. We scouted locations for months to find the exact right position. We sourced special lenses and gear. The actors had to be perfectly rehearsed. It was equal parts exhilarating and terrifying, with just one chance to get it right."
The cast and crew of NOMAD brought in experienced photographer Ted Hesser to consult in the specifics of capturing the eclipse. Hesser photographed The Great American eclipse in 2017, and the resulting photo created a massive stir in climbing and travel communities worldwide.
In this love story on 7 continents, a young woman encounters a man with a strange condition: every 12 hours he spontaneously shifts to a different location on Earth, with no idea which climate –or continent – he's going to next.
Over the next five months, NOMAD will traverse 25 countries and 7 continents, capturing some of the most remote and spectacular locations on Earth, potentially shattering several Guinness World Records. The production will emphasize authenticity, using only real locations, with no green screen or studio sets.
NOMAD is amongst a growing number of projects to be shot on a large format camera- a new technology in the cinema world - but this is the first time an eclipse has ever been captured in large format on the ARRI ALEXA LF.
The camera engineers at ARRI have been working closely with filmmakers including NOMAD cinematographer Kevin Garrison, on how to best take advantage of the unique capabilities of the ALEXA LF sensor, and large format as a new medium for motion picture projects.
Defying norms of independent filmmaking, the film's casting process covered the globe, spanning 6 continents, with over 28,000 submissions from new, undiscovered talent, making it a completely international ensemble. Leo Woodall hails from the UK playing the lead role of "Ben" opposite Australian actress Sana'a Shaik as "Nellie". Rounding out the cast are Jordi Webber of New Zealand, Abbey Hoes from the Netherlands and several others from Slovenia, the Faroe Islands, UK, Australia and the US.
NOMAD is written and directed by Lexton who is known for his unique visual aesthetic and emotionally charged storytelling. Lexton has directed countless commercials as well as Nancy Cartwright's passion project, the critically acclaimed 2017 indie film In Search of Fellini which starred Maria Bello, Mary Lynn Rajskub and Ksenia Solo.
DOWNLOAD ALL HI-RES IMAGES HERE
FOR MORE INFORMATION:
Instagram: @NomadTheFilm
Facebook: @FilmingNomad
Website: http://nomad.film/