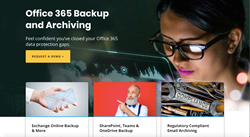 Dropsuite's first foray into the Africa market
SINGAPORE (PRWEB) July 30, 2018
Dropsuite Limited (ASX: DSE), a leading cloud data backup platform for businesses, is pleased to announce that it has partnered with leading South African cloud enabler, Tarsus On Demand, a subsidiary of Tarsus Technology Group, to deliver scalable and secure Office 365 cloud backup services to South African businesses.
This business arrangement marks Dropsuite's first foray into the Africa market for its cloud services and products. The agreement means Tarsus On Demand will offer its customers powerful new tools to protect their Office 365 data from cyber threats and accidental data loss. Cloud Backup for Office 365 by Dropsuite is a comprehensive solution that safeguards Exchange Online, SharePoint, OneDrive and Teams all in single pane of glass control panel for ease of management.
Last year, Microsoft announced that it was constructing new data centers in Johannesburg and Cape Town to launch in 2018 -- demonstrating an unwavering commitment to cloud services for the continent. Besides providing local data residency in South Africa, the centers will likely increase data transfer speeds for organizations throughout the region.
An increase in African Internet speed will help drive cloud growth. According to Statista, African e-commerce will attract nearly 25 million shoppers by 2021, up from 18 million today. Tarsus On Demand believes Microsoft Office 365 adoption will continue its impressive march forward as well, and with that, the need to safeguard data should increase congruently.
"Microsoft's commitment to Africa confirms our belief that cloud-based solutions will continue to gain traction across South Africa," said Anton Herbst, CEO of Tarsus On Demand. "Dropsuite has set a high bar for Office 365 cloud data protection with its backup, archiving, recovery, and email intelligence solutions and we're proud to offer Dropsuite to our customers."
"We have believed in Dropsuite's potential since we first launched the company more than six years ago, and we were convinced cloud backup would expand to all corners of the globe," said Ridley Ruth, Dropsuite's COO. "With outstanding partners like Tarsus On Demand, there's no doubt that Dropsuite will continue to grow throughout South Africa and beyond."
Earlier in July, Dropsuite partnered with Squalio Group, a leading cloud service provider in Eastern Europe, to offer email backup, recovery and archiving to its Office 365 customers. In June, Dropsuite joined forces with Vietnam's Mat Bao to bring Office 365 data protection services to businesses in Southeast Asia.
For more information about Tarsus On Demand, please visit https://www.tarsusondemand.co.za. For more information about Dropsuite, please visit https://dropsuite.com.
About Tarsus On Demand
Tarsus On Demand is a South African cloud and hybrid cloud enablement vendor offering a platform, complimentary applications and solutions to assist businesses embrace the benefits of cloud technology easily and in the most cost effective manner. From end users testing cloud services, partners deploying cloud solutions or service providers looking for a way to provide cloud solutions to a broader customer base and partner channel, Tarsus On Demand can assist. Cloud is not a product for us. Cloud is who we are. Founded in 2013 and based in Johannesburg, South Africa, Tarsus On Demand operates as a subsidiary of Tarsus Technology Group. https://www.tarsusondemand.co.za
About Dropsuite
Dropsuite (DSE:ASX) is a global cloud software platform enabling business organizations in over 100 countries to easily backup, recover and protect their important company information. Dropsuite's network of preferred reseller partners has a combined customer reach of millions of businesses worldwide. Dropsuite's products include G Suite Gmail Backup, Email Archiving, Website Backup and Cloud Backup of Office 365 — which effortlessly backs up Exchange Online, OneDrive, SharePoint and Teams. Dropsuite has partnered with some of the biggest names in the web hosting and IT service provider markets such as UOL, GoDaddy, Ingram Micro and Crazy Domains to safeguard businesses from the threat of unexpected data loss. Dropsuite was launched in 2012 and is headquartered in Singapore with a sales presence in the US, Europe, Japan, and Australia. https://dropsuite.com