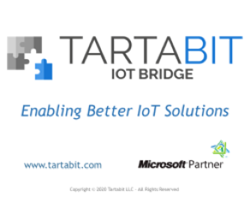 "Tartabit IoT Bridge fills a major gap in the marketplace allowing IoT OEM solution providers as well as enterprises to leverage the power of Azure IoT in combination with the protocol effectiveness of LWM2M for constrained IoT Devices," said James Brehm, Founder of James Brehm & Associates
BOCA RATON, Fla. (PRWEB) December 17, 2020
Today, Tartabit LLC announced the availability of the Tartabit Internet of Things (IoT) Bridge Service for Microsoft Azure. Tartabit IoT Bridge is a Cloud Gateway SaaS service which enables LwM2M IoT Solutions to effortlessly integrate into the Microsoft Azure IoT services. The offering is now released and available for purchase through the Azure Marketplace.
In the cellular IoT domain, LPWAN optimized transports like LWM2M can reduce network traffic and likewise data plan costs by over 70% enabling many use cases that were previously impossible due to cost constraints. The challenge however is that the protocols are not cloud ready and require unique handling. Doing it wrong means larger than needed data plans and shorter than desired battery life.
Tartabit's IoT Bridge is designed to work with the industry standard LWM2M clients which are bundled with most IoT module offerings as well several open-source software clients that can be easily integrated in to IoT device endpoints. IoT Bridge delivers a state-of-the-art low code integration model with Azure IoT by leveraging an easy-to-use set of service templates. Solution integrators can use templates in combination with cloud triggers to route valuable device data payloads or objects directly into Azure IoT, effortlessly enabling Azure IoT Digital Twins as well as other powerful Microsoft services.
"The new Azure IoT capabilities provided by Tartabit's IoT Bridge solution enables developers to rapidly integrate their devices with the Microsoft Azure ecosystem," said Jim Wert, Chief Technology Officer and Co-Founder, Tartabit. "our integration templates provide a low code approach to quickly overcome the complexities of integrating the LPWA devices into Azure IoT Hub, Event Hub, Azure Digital Twins and CosmosDB."
"Tartabit IoT Bridge fills a major gap in the marketplace allowing IoT OEM solution providers as well as enterprises to leverage the power of Azure IoT in combination with the protocol effectiveness of LWM2M for constrained IoT Devices," said James Brehm, Founder of James Brehm & Associates. "The low code service approach seamlessly configures to deliver the IoT data to Azure and reduces the development friction, allowing developers to focus on what they're good at - creating application value."
"We welcome Tartabit's IoT Bridge offering into the Azure Marketplace and to our growing list of Azure IoT Value added Partner offerings, making it easier for OEMs and solution builders to leverage next generation technology that 'just works' with the Azure IoT platform," said Tony Shakib, General Manager, Azure IoT at Microsoft Corp. "Tartabit's work in emerging network technologies like LWM2M and CoAP for NB-IoT and CAT-1 enabled devices opens up new possibilities for digital transformation across many industries to simplify IoT from edge to cloud."
About Tartabit LLC
Tartabit is a Next Gen Things (IoT) enablement company founded by a team of experienced IoT executives and practitioners who share a passion to provide easy to use tools and services capable of accelerating the adoption of IoT globally. Our vision is to radically increase the ability for enterprise and OEM customers to leverage next generation IoT device data by offering the easiest to use, buy and deploy LPWAN Cloud Gateway Service to bridge next generation IoT device data with industry leading Cloud Services. IoT Services built for Developers by IoT Developers.
Copyright © 2020 Tartabit LLC. All rights reserved. Tartabit, Tartabit IoT Bridge and all associated logos are trademarks of Tartabit LLC in the United States and other countries. Other names used herein may be trademarks of their respective owners