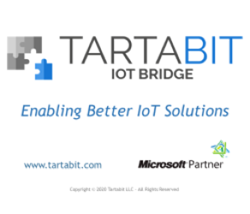 "With the return of Mobile World Congress, a renewed level of enthusiasm seems to be in the air." said Fred Yentz CEO, Tartabit "It seemed like the right time and place to announce the IoT Bridge support for OMA and LWM2M 1.1 based device integration services with Microsoft Azure."
BARCELONA (PRWEB) June 29, 2021
Today, Tartabit LLC announces the availability of LWM2M 1.1 server support as part of the IoT Bridge LPWAN to Microsoft Azure integration service. In addition, Tartabit is pleased to announce they have joined the Open Mobile Alliance to help improve the specification and further promote adoption of LWM2M as a leading device management technology for low-powered wide-area (LPWA) devices.
Tartabit recognizes the inherent advantages of the newest OMA standards regarding to data plan optimization, reduced power consumption and device management. These known advantages in conjunction with Tartabit's mission of reducing IoT adopter development and deployment challenges will certainly contribute to the acceleration of the LPWA IoT market.
As a leading provider of Microsoft Azure IoT Cloud Gateway solutions, the Tartabit IoT Bridge continues to expand the number and types of IoT devices which will now seamlessly integrate with Azure IoT Services. Providing additional industry standard protocol onboarding for Microsoft's Azure extends market reach and supports an ever-growing IoT device maker and solution provider ecosystem.
In conjunction with Tartabit's OMA membership, Tartabit is also pleased to announce the release of IoT Bridge Solution Templates in support of select Nordic Semiconductor, Telit, and Quectel LTE Cat-M and NB-IoT devices and development kits. Tartabit provides a vendor neutral, industry standard on-ramp to Microsoft services with flexible SaaS Public and Private, and Cloud deployment models, all with the goal of creating the most flexible and cost optimized LPWAN bridge into Microsoft Azure IoT.
"Today's announcement reinforces our dedication to the rapidly growing LPWAN sector of the IoT Market," said Fred Yentz, CEO and Co-Founder, Tartabit. "With the return of Mobile World Congress, a renewed level of enthusiasm seems to be in the air making it the right time and place to announce our support for the Open Mobile Alliance in addition to IoT Bridge's LWM2M 1.1 based Solution Templates for Microsoft Azure. Frictionless integration of LPWAN devices will speed the adoption of OMA standards and contribute to the growth of our industry."
"OMA SpecWorks is pleased to welcome Tartabit to the community of contributors and implementers of LwM2M," said Seth Newberry, General Manager of OMA SpecWorks, "OMA has a rich history of developing mobile service layer specifications with over 200 unique specifications in its portfolio. First released in 2018, LwM2M along with its IPSO objects provides device management and service enablement capabilities for managing the entire lifecycle of the IoT device."
About Tartabit LLC
Tartabit is a Next Gen Things (IoT) enablement company founded by a team of experienced IoT executives and practitioners who share a passion to provide easy to use tools and services capable of accelerating the adoption of IoT globally. Our vision is to radically increase the ability for enterprise and OEM customers to leverage next generation IoT device data by offering the easiest to use, buy, deploy, and manage LPWAN Cloud Gateway Service to bridge next generation IoT device data with industry leading Cloud Services. IoT Services built for Developers by IoT Developers.
http://www.linkedin.com/company/tartabit/
Copyright © 2021 Tartabit LLC. All rights reserved. Tartabit, Tartabit IoT Bridge and all associated logos are trademarks of Tartabit LLC in the United States and other countries. Other names used herein may be trademarks of their respective owners.