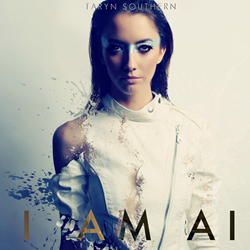 Over the past year, we've seen a lot of threatening headlines about AI. My album began as an exploration of those themes and how humans and AI might co-evolve
LOS ANGELES (PRWEB) September 27, 2018
Taryn Southern, singer/songwriter, filmmaker and artist, today announces the release of her pop album titled I AM AI. The first ever musical collaboration between a solo artist and artificial intelligence, I AM AI uses a variety of different AI software including Amper Music, IBM's Watson Beat, Google's NSynth, and AIVA and includes a song tokenized on the blockchain. The album is distributed through stem.is, a distribution and revenue tracking service that enables royalty payments to be split between collaborators.
"Over the past year, we've seen a lot of threatening headlines about AI. My album began as an exploration of those themes and how humans and AI might co-evolve," Taryn says. "The irony is that working with AI not only helped me fortify my creative abilities, it gave me a new language and appreciation for music development and creation."
To compose the music of I AM AI, Taryn gave the AI software direction and/or data, which it then used to generate melodies and chords. Taryn then arranged the resulting stems and wrote the song lyrics and vocal melodies. Her friend and longtime sound engineer Ethan Carlson worked alongside Taryn on the song production.
On I AM AI, Taryn explores the future of humans and machines. Her first single Break Free has played across radio stations worldwide, reaching #48 on the Billboard Indicator Chart and #2 on the Euro Indie Chart. Her second single, Life Support, was nominated for a 2018 Streamy Award for Best Immersive Video for integrating virtual reality with 2D video.
Taryn's latest single, New World, is a large-scale experiment using AI for composition and blockchain technology to distribute the song ownership. As the first tokenized song on the blockchain, more than 240 individuals collaborated on writing the lyrics and will collect royalties from song sales and streams through their Ethereum wallet addresses. New World is viewable in both 360 VR and in 2D on YouTube, and was created using a combination of Tiltbrush, Google Blocks, Maya and Unity. Both "Life Support" and "New World" were made possible thanks to a grant from the YouTube Creator VR Lab.
For a breakdown of the technologies used for each song, as well as previews from the album, see below:
BREAK FREE: composed/produced with Amper. A woman wishes to know what lies biological existence.
NEW WORLD: composed with Watson Beat & Amper. An anthem for the blockchain generation. Contains lyrical contributions by 240+ collaborators who each own a portion of the song through tokenized smart contracts.
ALIVE: composed with Watson Beat & Amper. A girl falls in love…with her robot.
GENESIS feat. DJ Beep Code: composed with Watson Beat. An anthem for a new era - the dawn of man + machine.
LIFE SUPPORT: composed/produced with Amper. A journey to the dystopian present, where people can't survive without technology.
TIME: composed/produced with Amper. An expression of fear brought by the waves of change.
LOVESICK: composed with AIVA. An android falls in love…with a human.
VOICES: composed with Amper; sounds by NSynth. Are the voices in our heads anything more than just sophisticated code?
For more information on Taryn's upcoming projects, please visit https://www.tarynsouthern.com/. To listen the complete album, please visit http://fanlink.to/iamai.
More on Taryn Southern:
Taryn Southern is an artist and technologist with more than 700 million views across her videos. Since Taryn uploaded her first song to YouTube in 2007, she's produced more than 1500 videos, guest starred on dozens of television shows, and hosted several music-related series and specials, including The American Music Awards, The Grammys, The X Factor. In 2013, her song "Crush" on the Mediabase Top 200 radio charts and she began hosting her own weekend countdown show for Sirius XM's The Pulse. In addition to her experiments with AI and blockchain technology, Taryn is currently directing and producing a documentary on the future of man and machine. She has performed at VidCon, Google's AI Summit, The NY Times AI Conference, Web Summit, The Next Web, and Near Future Festival. For more on her pop album, I AM AI, please visit https://www.tarynsouthern.com/album.