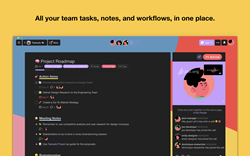 Following our debut at Y Combinator's demo day, Taskade set out on a mission to make real-time collaboration simple and frictionless. Taskade's all-in-one workspace platform helps remote teams stay competitive in the modern workplace by cutting down unnecessary friction in planning, organizing, and
SAN FRANCISCO (PRWEB) August 27, 2020
The first all-in-one real-time organization and collaboration platform Taskade launches free upgrades for teams and individuals. This week, the team behind Taskade announced they are removing the limitations on the number of projects and tasks for all free accounts. Taskade users will now be able to create unlimited projects, templates, and invite an unlimited number of collaborators into their workspaces, all for free.
Following its debut at Y-Combinator's demo day, Taskade set out on a mission to make remote collaboration simple. The platform helps remote teams stay competitive in the modern workplace by cutting down unnecessary friction in planning, organizing, and decision making, says Taskade CEO John Xie.
While remote teams can cherry-pick the tools they work with, the number of options available on the market makes for some really tough decisions. More often than not, trying to juggle several solutions means that meaningful, focused work takes a back seat.
Now that the need for remote collaboration tools has soared due to the COVID-19 lockdown, Taskade's offering seems like a sound proposition. Instead of adding yet another brick to the wall, the company takes a step back and combines document outlining and editing, visual mind mapping, video conferencing and task management in one, simple and elegant tool.
Apart from the upgraded free package, the platform offers two paid tiers for small businesses and enterprise-grade clients. Their unlimited plan ($5 per user) removes the cap on storage space for files and attachments. It also unlocks priority support and custom onboarding. The enterprise package is priced individually and adds extended security, control, and support.
If you have used tools like Asana, Trello, Todoist, Zoom, Notion, Microsoft Teams or Slack, you will feel at home as Taskade combines all the essential ingredients needed for remote collaboration into one simple tool. Another good news is that it's available on all popular operating systems, including Windows, Mac, iOS, Android, and as a browser extension and syncs in real-time.
Last year, the company secured a $5M seed investment from Y-Combinator and Grishin Robotics.
"We believe Taskade is fundamentally changing remote team collaboration by providing one tool that teams need to get work done effectively. Taskade provides a real-time, device-agnostic and cross-platform experience to end-users. We are excited to be part of the journey with the Taskade team," said Dmitry Grishin, managing partner at Grishin Robotics.
If you're interested in taking the app for a spin, head over to https://www.taskade.com/ to create a free account. You can also download Taskade's mobile and desktop apps for all your devices at https://www.taskade.com/downloads/.
About Taskade
Based in San Francisco and Singapore, Taskade is a real-time organization and collaboration platform for remote professionals and distributed teams who want to stay competitive in the modern environment. Taskade helps its customers get work done together, faster and smarter by providing one tool for tasks, notes, mind mapping, and video conferencing, in one remote-first platform. Some of its happy customers include teams at Uber, Shopee, Capital One, YCombinator, Lyft, Compass, Activision, Booking.com and Transferwise.
Press Contact:
John Xie
Co-Founder and CEO
john@taskade.com