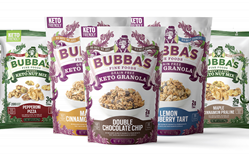 DENVER (PRWEB) January 26, 2021
Bubba's Fine Foods, the grain-free snack kings of the health food world, are back and more flavorful than ever with the launch of six new Keto Nut Mixes and three new Keto Granolas available through their Amazon store now.
These finger-licking new options are packed with protein, antioxidants, vitamins, and taste bud tingling spices for a crunch and zip that rivals their junk food counterparts.
Best of all, they're perfect for anyone living a low carb, Paleo, or Keto-centered lifestyle since they only have 2-3 grams of net carbs and plenty of protein for that sustaining energy and feeling of fullness.
Snack on a premium blend of walnuts, pecans, and healthy seeds doused with finger-licking seasonings
Up to 7g of protein, only 3g of net carbs, and 19g of nutritious fats
1.2oz snack packs are the perfect size for sports games, road trips, school or work snacks, and more
Flavors include: Pepperoni Pizza, Traditional Recipe, and Sour Cream & Chive
Enjoy a premium blend of nuts and seeds expertly crafted to indulge your sweet tooth cravings. Sprinkle on top of yogurt, smoothies, or soups for a crunchy kick!
Up to 6g of protein, only 3g of net carbs, and 19g of nutritious fats
1.2oz Single-Serve Snack Pack
Flavors include: Chocolate Chip Cookie Dough, Maple Cinnamon Praline, and Thai Sweet Chili
Add the perfect touch of sweet and crunch to breakfast, snacks, or dessert. Enjoy the sweet taste of sugar, without the sugar alcohol aftertaste.
Nutrient-rich ingredients: coconut, sunflower seeds, walnuts, flax seeds, and chia
2g of net carbs per serving, and 3g of dietary fiber
Flavors include: Lemon Blueberry Tart, Maple Cinnamon Crunch, and Double Chocolate Chip
Bubba's Fine Foods are paleo, low-glycemic, grain-free, gluten-free, soy-free, dairy-free, and free of refined sugars and artificial flavorings.
Bubba's Keto Granola and Keto Nut Mixes are both available through Bubba's Fine Foods' Amazon Store and bubbasfoods.com and will soon be available at grocery stores nationwide.
Bubba's full line of snacks can be purchased at bubbasfoods.com, Amazon, Whole Foods, Natural Grocers, Sprouts, The Fresh Market, King Soopers, and select retailers nationwide.
Follow @bubbasfoods on Facebook, Twitter, and Instagram.
About
Since 2014, Bubba's Fine Foods has been at the head of a natural health food revolution where smart, healthy choices finally meet big, bold flavors. Run by gourmet chef Jared Menzel and health coach and former CrossFit trainer Jeff Schmidgall, they're satisfying your naughty and nice cravings with every wholesome green banana they peel, a dash of chipotle they sprinkle, and a nourishing handful you munch.
To coordinate an interview with Bubba's Fine Foods, contact Brooke Daily at brooke@veteranpr.com.