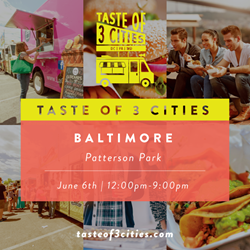 Foodies Unite for a Cause
Baltimore, MD (PRWEB) June 03, 2015
The Triple Crown Triumvirate finishes in Baltimore, MD this Saturday, offering food truck owners a chance to win over $10,000 in cash and prizes for Mayor's Cup 1st, 2nd and 3rd places! Spectators will enjoy a day full of gourmet culinary creations, family-friendly activities and can cast their vote for favorite food truck with local celebrities for the People's Choice award. Prizes are also awarded for best seafood, best BBQ, best vegetarian and best dessert.
Date: Saturday, June 6th
Time: Noon to 9PM
Location: Patterson Park
2806 Eastern Avenue
Baltimore, MD 21231
Food Truck All Stars

Philadelphia: Ada's Kitchen on Wheels, Baron Von Schwein, Calle Del Sabor, Jerry's Kitchen, Oink and Moo, PB and U, Rigatoni's Mobile Crab Cakes, The Cow and the Curd, Sweetbox, Spot Burgers, Philly Fry, and Mad Dash
DC: AZ Neats, Burgorilla, Captain Cookie & The Milk Man, Carmen's Italian Ice, DC Slices, DC Taco Truck, Feelin' Crabby, Lemongrass, Midnite Confections Cupcakes, Red Hook Lobster, South Meets East, and That Cheesecake Truck
Baltimore: Gyspy Queen, Koco, Aladdin Grill, Bistro Lunchbox, Cruisin' Café, Flavor Cupcakery, Greek on the Street, Grr Che, Hula Honeys Shaved Ice, Iced Gems Baking, Jimmy's On the Go, Kommie Pig, LaCakerie, Laughing Crab, Thank God, The Crab Lab, Dizzy Cow Pizzeria … and many more
Family Fun
Live, local bands include the Brian LaPann Trio, Black Masala, The Herd of Main Street and headliner Yellow Dubmarine on the Main Stage. The Artists Compound Stage will showcase live performances and art demonstrations, including a graffiti wall. Baltimore Social League has cornhole, can jam and bocce. The kids will enjoy a 48-ft obstacle course, 18-ft power slide, oversized bounce house and may participate in arts and crafts or dunk Mr. Boh in the dunk tank. The Belmont Stakes race will also be televised.
Art & Fashion Trucks
Peruse the Vendor Village with BoHo Tats, Glam Jewelry, Beltway Merch, Here's Your Design and Fashion and Art Trucks like Gogo's Retread Threads, Tin Lizzy, Urban Pearl and Sogh Art for unique treasures.
Ticketing
VIP tickets (include One Hour Early Admission, All You Care to Drink Wristband, Private Lounge and Facilities) are still available in limited quantity. General Admission is $5 for children 12 and older and $15/advance or $20/door. Family Pack is $35/advance or $45/door and includes two kids meals. Free shuttles are available throughout the day. Guests may purchase tickets, view the latest festival additions and more by visiting http://www.tasteof3cities.com.
Foodies Unite for a Cause
Join the food truck revolution and unite to end AIDS, hunger and homelessness with (RED) Campaign, Meals on Wheels and Arundel House of Hope campaigns.
About the (RED) Campaign
(RED) The Global Fund to Fight AIDS was created by Bobo and Bobby Shriver in 2006 to engage millions of people in the greatest challenge of our time—to fight to end AIDS in Africa. Bank of America will donate 40 cents for every BofA cardholder's food truck purchase. 40 cents covers the daily cost of HIV treatment.
About Meals on Wheels
Meals on Wheels Central Maryland enables people to live independently at home through the provision of nutritious meals, personal contact and related services.
Daily food service costs $15 for two meals on the MOWCM program.
About Anne Arundel House of Hope
Anne Arundel House of Hope provides emergency, transitional and permanent affordable housing for the poor since 1992.
About Taste of 3 Cities & The Gathering Project
Taste of 3 Cities is produced by The Gathering Project to gather street chefs and culinary personalities to highlight the food truck revolution and its positive impact on our cities.
###