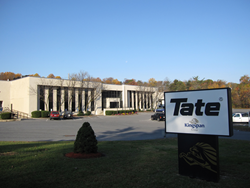 "We are constantly investigating and implementing new ways to reduce the environmental impact of our manufacturing process and business operations, and this achievement is just one of what we hope to be many wins for our company and the environment."
JESSUP, Md. (PRWEB) September 24, 2020
Tate® Inc., a market leader in the manufacturing of raised access floors and data center management solutions, announced today that it has achieved its goal of eliminating all waste going to landfill from its three offices and manufacturing sites in Maryland and Pennsylvania ten years ahead of its target of 2030.
As a division of Kingspan, Tate is part of the company's ambitious ten-year global sustainability program, Planet Passionate. All Kingspan companies throughout the world participate in the initiative, which aims to impact three major global issues: climate change, circularity and protection of our natural world. Through Planet Passionate, Tate is driving energy and carbon out of business operations and supply chains, increasing recycling of rainwater and waste and accelerating participation in the circular economy. The Planet Passionate initiative was predicated by a Net Zero Energy initiative which commenced in 2011, with the goal of obtaining Net Zero Energy* by 2020. In addition to achieving zero waste to landfill, Tate was proud to obtain Net Zero Energy by the 2020 goal and is on track to achieve many other company targets for reducing greenhouse gas emissions and other sustainability objectives established in the new Kingspan Planet Passionate initiative over the next 10 years.
The zero waste to landfill goal was achieved through a combination of reuse, recycling and energy generation. Cement aggregate wastes from the company's Red Lion and Jessup manufacturing facilities are reused for pavement solutions. Cardboard, steel and aluminum wastes are recycled. All other non-recyclable general waste, which accounts for 15% of the total, is incinerated at local county solid waste facilities to generate energy. Sustaining zero landfill status is an environmental objective of Tate's Environmental Management System, which is audited and certified by Lloyd's Register.
Tate's commitment to sustainability includes goals and actions for continuous improvement in the areas of the environment, customers, community and company. David Maybury, Tate's General Manager, explains why these goals are so important to the company.
"We understand that the manufacturing industry is a major contributor to global environmental issues, so we believe it is incredibly important for companies like ours to take serious actions like these to foster a better environment," Maybury said. "We are constantly investigating and implementing new ways to reduce the environmental impact of our manufacturing process and business operations, and this achievement is just one of what we hope to be many wins for our company and the environment."
Now that Tate has achieved Net Zero Energy and zero waste to landfill, other Planet Passionate targets that the company will focus on include rainwater harvesting and on-site, renewable energy generation, among others. For more information on Tate and the Planet Passionate targets, visit http://www.tateinc.com/learning-center/sustainability.
About Tate
Tate, Inc. is an industry leader in the research and development, sales and distribution of raised access floors and data center infrastructure solutions. Tate's products include concrete and steel raised floor panels, data center airflow management and data center infrastructure. The company provides its clients with floor-to-ceiling solutions which work together to maximize office and data center performance. Tate, Inc. is headquartered south of Baltimore in Jessup, Maryland, and is a member of the Kingspan Group of companies.
Net Zero Energy*: to match 100% of our operational energy use through the use of renewable energy and the purchase of renewable energy certificates to offset any remaining non-renewable energy use.