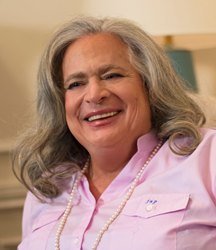 CHICAGO (PRWEB) July 16, 2020
TAWANI Enterprises is excited to announce that Col. Jennifer Pritzker has been recognized by Crain's Chicago Business as a 2020 Notable LGBTQ Executive. This list highlights LGBTQ Executives in Chicagoland who have positively impacted their workplaces and communities.
Crain's 2020 Notable LGBTQ Executive list features 56 LGBTQ executives and 10 companies that champion diversity. To qualify for the list, individuals must have made significant contributions to advancing equality within the workplace or in the Chicago area. Recognized executives work in all areas including small businesses and large corporations, arts organizations, and nonprofits.
"It's an honor to be featured again in Crain's Notable LGBTQ Executives list," says Col. Jennifer Pritzker, TAWANI Enterprises Founder and CEO. "It's critical that company leaders across Chicago continue looking for ways to eliminate both conscious and unconscious bias in hiring and employment practices. It's also important to continue supporting LGBTQ research to help the general public better understand these communities."
For nearly three decades, Col. Jennifer Pritzker served in the U.S. Army, U.S. Army Reserve, and the Illinois Army National Guard. A historian, businesswoman, investor, developer, and philanthropist, she founded TAWANI Enterprises in 1994. Through a dynamic portfolio of public-facing brands, TAWANI Enterprises aims not just to grow value for itself, but to create things of value shared and enjoyed by its fellow citizens into the future.
Col. Jennifer Pritzker continues to be an outspoken defender and advocate for LGBTQ causes, recently criticizing the transgender military ban and the HHS rollback on healthcare allowing discrimination against LGBTQ patients. Her opinion pieces have appeared in Vanity Fair, the Washington Post, and the Chicago Sun-Times.
As stated by Crain's Chicago business, "the Supreme Court's landmark ruling in June 2020 that civil rights law protects gay and transgender employees from discrimination pleases this cohort of Notables and the broader community that advocates equality."
To view the full list of Crain's 2020 Notable LGBTQ Executives, please follow this link.
###
About TAWANI Enterprises
A visionary umbrella organization with an entrepreneurial outlook, TAWANI Enterprises seeks to make private investments that connect people to the history in their midst and create opportunities for growth and knowledge, while forging stronger, healthier communities. The company represents a diversified portfolio of brands including TAWANI Property Management, TAWANI Property Development, the Pritzker Military Museum & Library, TAWANI Foundation, Pritzker Military Foundation, Master Wings Publishing, and Aurum Trading, a gold coin trading market maker. Properties under the TAWANI Property Management Hospitality division include Lang House Chicago, The Emil Bach House, Mayne Stage and The Lincoln Way Inn, all of which are thoughtfully designed lodging and event spaces. For more information, visit http://www.tawanienterprises.com.