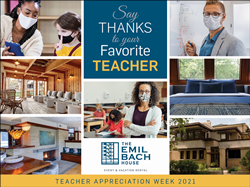 CHICAGO (PRWEB) May 03, 2021
TAWANI Property Management Hospitality, dedicated to providing distinctive spaces for event and vacation experiences that are both exceptional and comfortably familiar, today launched its Teacher Appreciation Week giveaway. May 3-7 is Teacher Appreciation Week, and as part of the celebration, three lucky nominated Illinois educators will win a two-night stay at the historic Frank Lloyd Wright home in Chicago, Emil Bach House.
"There's no denying this past year has been tough for many, and teachers have had to work overtime to battle the obstacle of educating our children throughout the pandemic,"says Carmen Korleski, Director of Hospitality Operations at TAWANI Property Management Hospitality. "Educators play a critical role in cultivating and molding our children's lives in a positive direction, and this giveaway is a way for us to show our gratitude."
Nominate Your Favorite Teacher
TAWANI Property Management Hospitality is calling on the public to nominate their favorite teacher, currently employed by a school in the state of Illinois, for a chance to stay at the historic Frank Lloyd Wright Emil Bach House and invite up to 5 of their guests. Nominations will be accepted through May 21 and can be made online, one entry per person.
On May 24, three nominations will be chosen at random, and each teacher will receive a 2-night stay at this unique vacation rental, an Emil Bach House tote bag, DVD and book (Frank Lloyd Wright's $10,000 Home), and a $20.00 Charmer's Café gift card.
Emil Bach House
Located at 7415 N. Sheridan Road in Chicago's Rogers Park neighborhood, just steps from Lake Michigan, Frank Lloyd Wright designed this richly conceived yet intimately scaled residence in 1915 for Emil Bach, president of Chicago's Bach Brick Co. In contrast to the expansive, open Prairie houses Wright designed, the Bach House is strongly centered and self-contained. This home is the only remaining example of Frank Lloyd Wright's late prairie-style houses that combined a series of geometric cubes, cantilevered flat roofs, open living areas, and extensive use of natural materials.
This historic home sleeps up to six guests and features a full kitchen, two full bathrooms, outdoor sun deck, screened-in porch, Japanese tea house, and beautifully landscaped gardens. To access the nomination form and for more information on rules and regulations, please visit http://www.emilbachhouse.com/teacher-appreciation-giveaway.
###
About TAWANI Property Management Hospitality
Meticulously restored and architecturally exceptional, each distinctive TAWANI Property Management Hospitality property greets visitors with a profound atmosphere of history complete with modern amenities. The brand's suite of thoughtfully designed lodging and event spaces transport guests to a place from another time while offering exceptional quality, service, and comfort. Properties under the TAWANI Property Management Hospitality division include Lang House Chicago, The Emil Bach House, a Frank Lloyd Wright masterpiece, and Lincoln Way, a destination inn. For bookings and more information, visit http://www.tawanienterprises.com/tawani-property-management-hospitality.