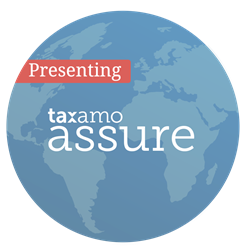 "Taxamo has created this product following huge market demand for a service which takes the burden of VAT compliance away for businesses," said Taxamo CEO John McCarthy.
Killorglin, Ireland (PRWEB) November 02, 2016
Assure is the service that digital businesses have craved since tax authorities across the globe started to alter rules and target eCommerce for VAT and GST purposes.
This new, secure product can take on all global VAT and sales tax liabilities and remove every regulatory obstacle for digital businesses. All without the business having to change its payment provider.
For digital businesses this means:

No registration with tax authorities for VAT obligations
No foreign VAT advice
No foreign VAT agents
No creation of VAT returns
No filing of VAT returns
No management of complex multi-currency VAT liabilities
No settlement of VAT to multiple tax authorities
No management of foreign VAT audits
On launch Taxamo Assure is supporting Stripe, with support for more PSPs to follow. The Taxamo Assure service launches with support for the EU region and New Zealand. Taxamo's stated goal for Taxamo Assure is to support every country that taxes foreign digital sales, ensuring peace of mind for their customers.
Stress-free global sales
It's time for digital businesses to completely remove global digital VAT & GST liabilities from their product roadmaps and begin to trade stress-free.
Using Taxamo's peerless expertise in global digital VAT compliance, and extensive background in payments, Taxamo have created Assure to be the foundation for this trading environment.
"Taxamo has created this product following huge market demand for a service which takes the burden of VAT compliance away for businesses," said Taxamo CEO John McCarthy.
"With large numbers of countries around the world bringing in consumer place of supply rules for VAT on digital services such an offer will be the most cost-effective, and secure, way for digital businesses to sell legally worldwide."
McCarthy added: "What this means is that the seller can concentrate on what they are good at: creating and selling digital services. The Taxamo Assure service will take care of the rest: so digital businesses can rest assured."
"One simple integration allows digital businesses to pass their global VAT liabilities to Taxamo. We give digital businesses the certainty they need to remain VAT-compliant in the ever-changing world of global digital taxation."
How will Taxamo Assure work?
Taxamo Assure will act as an interface for supported countries. For VAT purposes the digital business will be deemed to sell the products to Taxamo Assure, which will then simultaneously sell to the end customer. This will be recognised with back-to-back invoices.
Taxamo Assure will also make it simple to be tax-compliant across the globe by:
Providing a fully-functional payment form that will handle the integration between Taxamo and Stripe (support for additional PSPs will follow)
Determining the tax treatment of every transaction using the customer's location based on multiple pieces of evidence collected from the Assure checkout form
Calculating the tax based on the location
Providing fully-compliant invoicing to ensure the liability is properly assigned
Storing the data for compliance and audit purposes
Providing Taxamo's full tax reporting for any country/region where the business has the VAT or GST liability
About Taxamo
Taxamo's international digital tax solutions enable digital service businesses to comply with new worldwide consumer place of supply rules for VAT/GST.
Taxamo's simple integrations meet the requirements of international digital tax laws on tax calculation, reporting, and invoicing. Taxamo also offer businesses a simple, cost-effective, and reliable way to stay compliant.
Taxamo launched with an EU VAT solution in January 2015 and has since expanded to support US digital tax (sales & use), Japanese consumption tax (JCT), South African VAT, Norway's VAT system, Switzerland VAT, Canadian domestic sales tax, South Korean VAT, and the recently-extended New Zealand GST on digital services. Further regions will be introduced as they roll out worldwide.
Existing Taxamo customers include BBC Worldwide, BitTorrent, Penguin Random House, and Time Inc., among many others. In addition, Taxamo has announced a number of strategic partnerships including Braintree Payments and WooCommerce.
Contact us:
Visit our website: http://www.taxamo.com/assure
UK: +44 333 4050 030
US: +1 415 9065 165
Ireland: +353 1 4866320