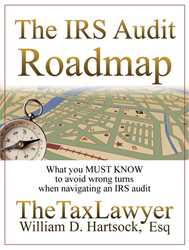 In the upper income brackets... audits have actually increased significantly.
San Diego, CA (PRWEB) May 15, 2014
With recent reports that IRS audits will operate below historical levels in 2014 due to significant cuts in IRS personnel and budget, the national storyline has given some classes of taxpayers a sense of relief. However, this may very well be a false sense of relief for many according to Mr. Hartsock.
"If you look at 2013 audits, just 0.6% of lower-middle income taxpayers were audited. So, audits in the largest income class have certainly gone down. However, in the upper income brackets, people making over $500,000 and over $1,000,000 a year, audits have actually increased significantly for those higher income earners to 3.79% and over 9% respectively," said Mr. Hartsock.
"What you have is a push by the IRS to do more with less, to collect more revenue with less resources, and therefore more time an effort are being focused on taxpayers that can yield more revenue for through taxes."
When asked if these new changes in IRS focus were what prompted his new book about IRS audits, Mr. Hartsock said, "Yes. My practice is located in Del Mar, CA, which borders on Rancho Santa Fe and La Jolla, all three of those cities are among the highest income per capita in the nation, and therefore most of my clients are considered high income earners. However, if you've never been through an IRS audit before, the initial feelings are about the same for everyone. Most people are just flying blind and overcome with panic as soon as they open that IRS audit notice. This book is to help people who are facing an audit be able to sleep at night. When you clearly understand the process, what the IRS is looking for, how and when to comply and how and when to push back in order to protect your financial interests, then you can feel confident in knowing you will get the best result possible. You may not even need a tax attorney to represent you in your audit, but if you do, our firm aggressively represents our clients rights to the fullest extent of the law. That is how we get results. This book takes people on a tour through that process."
Find "The IRS Audit Roadmap - What you must know to avoid wrong turns when navigating an IRS audit" on Amazon at: http://goo.gl/vgBSLN.