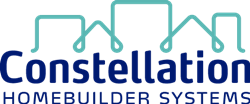 "Using NEWSTAR Enterprise and training our employees is the best way for us to grow. As we move forward in this partnership, we're confident that Constellation will provide support and expertise." - John Lucas, Vice President of IT at Taylor Morrison
MARKHAM, Ontario (PRWEB) January 14, 2019
Constellation HomeBuilder Systems is proud to partner with one of the largest home building companies in North America, Taylor Morrison. Founded in 2007, Taylor Morrison has reached #6 on the Builder100 list with over 8,000 closings in 2017.
To meet its national growth projections, Taylor Morrison has trusted NEWSTAR Enterprise from Constellation HomeBuilder Systems to manage their home building operations as a system of record for all business activity.
Taylor Morrison has already begun using NEWSTAR Enterprise builder management software to unite their teams and strengthen the relationship between various business functions. As part of the partnership, Constellation HomeBuilder Systems will enable Taylor Morrison to grow and reach more markets than ever before. "Using NEWSTAR Enterprise and training our employees is the best way for us to grow," says John Lucas, Vice President of IT at Taylor Morrison. "As we move forward in this partnership, we're confident that Constellation will provide the support and expertise to help us manage significant growth."
Constellation HomeBuilder Systems constantly evolves their products based on the needs of public and private builders, and the industry in general. The company actively sponsors user groups and hosts industry events across North America to encourage face-to-face networking with other top builders, often swapping best practices and influencing upcoming product enhancements. "We are thrilled to continue working with a company like Taylor Morrison. This partnership reiterates our strong commitment to builders across North America," says Chris Graham, Vice President at Constellation HomeBuilder Systems. "We've been working closely together with Taylor Morrison for many years. We look forward to a very successful long-term partnership."
About Constellation HomeBuilder Systems
Constellation HomeBuilder Systems is the largest provider of software and services in the building industry. Their innovative software solutions, available as standalone or integrated systems, empower builders with information to drive business objectives and simplify the process of building homes and condos. Constellation HomeBuilder Systems is the home building software division of Constellation Software Inc., an international provider of market-leading software and services for specialized industries, which is traded publicly on the Toronto Stock Exchange.