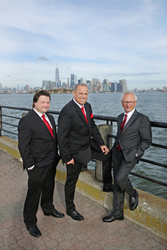 "We do not want to just be your warehouse, we desire to be a strategic partner and critical component of your supply chain"
ISELIN, N.J. (PRWEB) August 07, 2020
Taylored Services, a national leader in distribution, fulfillment, eCommerce and warehousing headquartered in Iselin, New Jersey, has been named an Inbound Logistics Top 100 3PL Provider for the 6th consecutive year. By demonstrating strong supply chain expertise, strategic vision, and a true sense of client partnership in providing flexible solutions, Taylored Services is recognized on this select list of best in class service providers, handpicked by Inbound Logistics editors.
Inbound Logistics' Top 100 3PL Provider's list serves as a qualitative assessment of service providers they feel are best equipped to meet and surpass their audience's evolving outsourcing needs. Distilling the Top 100 is never an easy task, and the process becomes increasingly difficult as more 3PLs enter the market and service providers from other functional areas develop value-added logistics capabilities. Each year, Inbound Logistics editors select the best logistics solutions providers by carefully evaluating submitted information, conducting personal interviews and online research, and comparing that data to our audience's burgeoning global supply chain and logistics challenges. IL editors selected this year's class of Top 100 3PLs from a pool of more than 300 companies. The service providers selected are companies that, in the opinion of IL editors, offer the diverse operational capabilities and experience to meet their audience's unique supply chain and logistics needs.
Taylored Services focuses on providing flexible solutions to their customer's fulfillment and distribution challenges, utilizing excellent customer service practices, continuous investment in technology and a strong entrepreneurial spirit.
Taylored Services works with current and prospective clients to develop customized solutions to their logistics and distribution needs. From complex automated solutions, to facility layout and design, to providing simple best practice applications, Taylored Services is an industry leader and creates long lasting partnerships with their clients. "We pride ourselves on being growth oriented, performance driven and customer focused," says Taylored CEO, Jim DeVeau.
When a pandemic disrupts transportation, boosts e-commerce distribution and fulfillment requirements, and affects supply chain operations in myriad ways, it's 3PLs to the rescue. Recognizing that Taylored Services provides solutions to help companies meet today's complex business challenges, and more, Inbound Logistics editors chose Taylored Services as a 2020 Top 100 3PL Provider.
ABOUT INBOUND LOGISTICS
Inbound Logistics, the demand-driven logistics magazine, is the leading multi-channel content provider targeted toward business logistics and supply chain managers. Inbound Logistics' mission is to help companies of all sizes better manage corporate resources by speeding and reducing inventory and supporting infrastructure and better matching demand signals to supply lines. More information is available at http://www.inboundlogistics.com