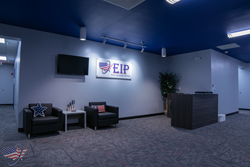 PALM HARBOR, Fla. (PRWEB) July 03, 2019
Elite Insurance Co.
View a video and pictures of the new office space here.
View the feature in Tampa Bay Business Journal here.
About the project
Date of completed renovation: May 10, 2019
Design firm: Elite Insurance Partners
Architecture firm: Jim Mathais
Property owner: Cambridge Highland Commons
Construction firm: Southern Builders South Florida
Square footage: 18,500
Floor count: Three, but the company only occupies the second floor and a small space on the first floor
No. of company employees: 30
Brief description of the business: Medicare insurance broker
Unique and interesting features:
Fully stocked refreshments bar, pantry of snacks, entirely updated with modern furniture, TVs throughout, special lighting ideal for those who work on computers, a training room for new hires with a projector, empty spaces for employees to relax and recharge, access cards with top of the line security, large cubicles for comfort.
Share additional details that explain why this space is so awesome and what it has meant for your company culture:
Our CEO, Jagger Esch, and COO, David Haass, spent a year working on our new building prior to moving in.
They wanted a space that was completely updated with the most modern technology and allowed our employees to work comfortably.
Our company culture has always shown we cared about our clients as well as our employees.
Our new building has helped our company culture by showing that the company does truly care about their employees and built the new office with them in mind.
About the company
Phone: 727-306-3479
Address: 34125 US Hwy 19 N, Palm Harbor
Industry: Insurance
Website: eliteinsurancepartners.com
Twitter: @eliteip
For questions, please reach out to Lindsay Engle at lengle@medicarefaq.com.