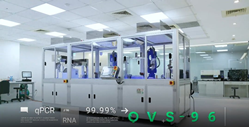 We consider this QVS-96 machine an efficient tool that may assist countries in need of rapidly expanding accurate testing capacity during this difficult time.
LOS ANGELES (PRWEB) September 24, 2020
The patent holder of QVS-96S, TCI Gene, Inc., announced that they have a global distribution agreement with Dr. David Allen, CEO of World Wellness and Lindsey Carnett, CEO and President of Marketing Maven to be Authorized Agents to represent, promote, import, and sell the product. The creator of QVS-96S is based in Taiwan and sought out this distribution arrangement based on the following partner channels held by Dr. Allen and Carnett: hospitals, laboratories, fitness, education, municipalities, insurance companies, genetics, medical device, airports and government agencies.
Novel coronavirus (COVID-19) tests are conducted in commercial, private and academic labs, as well as state and county health labs. The global pandemic has emerged as one of the most significant humanitarian challenges in recent history, and testing is seen as one of the main components of efforts to contain the virus and mitigate its impact.
QVS-96S is the world's first fully automated virus scanner operated by robotic arms, to load the corresponding codes of the specimens, which can prevent mismatches between test results and specimens caused by human error.
After specimens are handled, they are tested in a fully automatic, unmanned, and zero-pollution environment with the qPCR detection technology with an accuracy rate of 99.99%. The test results of 96 specimens can be obtained in under three hours and 30 minutes, and thereafter every 50 minutes to achieve 24/7 comprehensive monitoring and prompt responses to the pandemic. QVS-96 is based on Nobel-prize winning Polymerase Chain Reaction Technology (PCR). PCR quickly replicates a single specific fragment of DNA or RNA to quantities sufficient for accurate laboratory analysis.
In June 2020, this device received Certification of FDA Registration. Most importantly, they are listed on the FDA's website as an Establishment Registration and Device Listing:
https://www.accessdata.fda.gov/scripts/cdrh/cfdocs/cfRL/rl.cfm?lid=685117&lpcd=JTC
"According to former Food and Drug Administration Commissioner Dr. Scott Gottlieb, as coronavirus outbreaks continue to grow across a number of states, the U.S. response is still hampered by a lack of testing," said Dr. Allen.
Jason Lin, the sales representative for TCI Gene stated, "We consider this QVS-96 machine an efficient tool that may assist countries in need of rapidly expanding accurate testing capacity during this difficult time."
QVS-96S, the fully automated detection integration system, allows a turnaround time of qPCR 10 times faster than the original testing process, is now listed by the FDA. With a high capacity of PCR test power and shortness of timing, QVS-96S performance is nominated in well-known scientific journals like "Nature Biotechnology" to be deemed as effective to inform consumers with data quickly and accurately.
For more information about the QVS-96S and how it can be purchased, contact David Allen at drdavidallen@gmail.com or Lindsey Carnett at lindsey@marketingmaven.com.
About TCI Gene, Inc.
A World TOP 3 Pharmaceutical and cosmeceutical ODM manufacturer TCI has created a large variety of best-selling products for customers in 54 countries. Hundreds of millions of healthy foods in tablets and capsules, tens of millions of bottles of functional drinks and millions of facial masks and essences have been produced annually, serving 75% of the world's population. With strong scientific research capabilities, TCI has obtained 600 patents worldwide, and its long-term remarkable profit and operating performance has got it listed in Forbes ASIA'S 200 BEST UNDER A BILLION for four times. A decade ago, TCI entered the field of genetics and founded TCI Gene, dedicated to the development of genetic testing and personalized health care products, and joined stem cell therapy to offer a health total solution for customer. Since the outbreak of Covid-19, TCI Gene had gained the insight that the success of improving the prevention and control system lies in bolstering preparedness and response capacity. In short of time, developed the full-automation nucleic acid testing plate-from "QVS-96S".
About Marketing Maven
With offices in Los Angeles and New York, Marketing Maven is a full-service marketing and communications agency. With origins in direct response public relations, Marketing Maven has developed into a premier voice in brand strategy, social media, innovative media relations, event marketing, tradeshow support, Hispanic marketing and search engine optimization. Marketing Maven leads the industry in utilizing advanced metrics to measure their clients' marketing reach and providing competitive analysis unparalleled in the industry. For additional information about Marketing Maven, visit https://www.MarketingMaven.com.
About Dr. David Allen
Dr. David Allen is Chairman and CEO of World Wellness, LLC, a San Diego based Bioscience Company focused on bringing new technologies and products to the marketplace. Dr. Allen has provided over 25 years of expertise in developing, marketing and placing clinically tested patented technology for multi-channel distribution. David is the President of the American Botanical Drug Association. The global market for botanical and plant-derived drugs expected to grow to $39.6B by 2022 with a compound annual growth rate (CAGR) of 6.1%. The US FDA Botanical Drug Development Guidance for Industry defines a pathway for herbal medicines to become prescription drugs in the US. For more info on Dr. Allen and World Wellness, LLC, please visit https://www.worldwellness.us/.