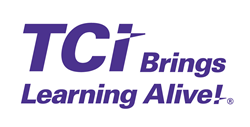 Social Studies Alive! will inspire your K-5 students to explore the world around them like never before.
MOUNTAIN VIEW, Calif. (PRWEB) November 16, 2021
This week at the National Council for the Social Studies 101st Annual Conference, K-12 publisher TCI introduced the newest edition of its elementary social studies program, Social Studies Alive!. Aligned with standards for all 50 states and national frameworks, such as the College, Career, and Civic Life (C3) Framework for Social Studies, the K-5 curriculum, immerses students in learning through engaging activities, building a strong foundation for tomorrow's leaders.
New to Social Studies Alive! program is the print "Student Journal," which students can use to read, reflect and share what they know. The "Student Journal" works hand in hand with the program's online program, providing students with links to online activities and content. Other components in the new program include four-color activity cards and "Social Studies Stories," which connect students to primary sources and other content that help them see the real world, themselves and their communities.
"Social Studies Alive! will inspire your K-5 students to explore the world around them like never before," said Bert Bower, founder and co-CEO, TCI. "Simply click through each lesson's slide deck, and without the need to make a single copy or read a lengthy lesson plan, you'll be able to immerse your students in fun geography, history, economics and civics lessons. Before you know it, social studies will be their favorite part of the school day."
TCI's new K-5 social studies curriculum provides educators with everything that they need for success, such as digital resources to support the curriculum, audio and digital tutorials and translations, interactive presentations and videos, standards-aligned immersive activities and customizable assessments. Social Studies Alive! also supports differentiated instruction, including support for English language learners, closed captioning, text-to-speech, Spanish translations and leveled reading.
The Social Studies Alive! programs include:

Me and My World: explores relationships that students have with their families, friends, teachers and neighbors.
My School and Family: introduces the structures of school and families.
My Community: teaches students the basics of American history, geography, economics and citizenship in the context of their community.
Our Community and Beyond: broadens students' awareness of the local and global communities in which they live.
Regions of Our Country: presents five regions of our country through the lens of four social sciences: economics, geography, political science and history.
America's Past: covers American history from the first migrations into the United States through the 20th century.
Used by more than 100,000 teachers around the country, TCI's science and social studies programs are based on proven teaching strategies and practices that bring education to life to achieve positive classroom results. Available on a digital platform, TCI's programs allow teachers to deliver interactive lessons from any device–their laptop or tablet.
About TCI
TCI is an award-winning online K-12 publishing company created by teachers, for teachers. For more than 30 years, the company has partnered with the education community to fundamentally change classroom instruction. TCI's K-12 programs are based on proven teaching strategies and practices that bring learning alive and achieve consistent, positive classroom results. TCI believes that the best education marries great content, meaningful technology and interactive classroom experiences. More than 2.6 million students in 7,000 school districts around the country achieve and succeed with TCI. For more information, visit http://www.teachtci.com.