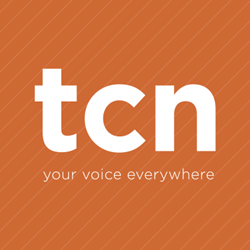 "This award underscores TCN's ongoing commitment to contact center technology innovation." - Jesse Bird, chief technology officer and co-founder of TCN
ST. GEORGE, Utah (PRWEB) March 12, 2020
TCN, Inc., a leading provider of cloud contact center technology for enterprises, contact centers, BPOs and collection agencies worldwide, announced today that TCN's Cloud Contact Center Platform was selected as a winner of the 2020 "Products of the Year" award, presented by CUSTOMER magazine. This year's award highlighted vendors that have advanced the call center, CRM and teleservices industries throughout 2020, enabling their clients to meet and exceed the expectations of their respective customers.
"We are honored to be selected as a winner of the 2020 CUSTOMER Magazine 'Products of the Year' award," said Jesse Bird, chief technology officer and co-founder of TCN. "This award underscores TCN's ongoing commitment to contact center technology innovation. TCN remains dedicated to helping all types and sizes of businesses better attract, maintain and communicate with its consumers now and well into the future."
Over the last year, TCN has developed, deployed and integrated new features to its existing contact center platform, including Natural Language Compliance, Workforce Optimization and call labeling compliance tools. With Natural Language Compliance, TCN users can automate and optimize compliance to assist agents in their outreach campaigns while minimizing risk at the state and federal levels. Through TCN's Workforce Optimization, contact centers can capture all customer experience data from phone interactions, e-mail conversations, social media posts, chat sessions and workflows to assure quality customer service at all times. Additionally, TCN recently partnered with Numeracle, enabling TCN customers to directly register phone numbers with wireless carriers, analytics companies and apps to improve transparency and labeling accuracy nationwide.
The 2020 CUSTOMER Magazine "Products of the Year" award is regarded as one of the most prestigious and respected honors in the communications and technology sector worldwide. Winners represent prominent players in the market who consistently demonstrate the advancement of technologies. Each recipient was a verifiable leader in the marketplace.
To the view the full list of 2020 CUSTOMER "Products of the Year" award recipients, visit: https://www.customerzone360.com/topics/customer/articles/444667-recipients-the-2020-customer-products-the-year-award.htm
About TCN:
TCN is a leading provider of cloud contact center technology for enterprises, contact centers, BPOs, and collection agencies worldwide. Founded in 1999, TCN combines a deep understanding of the needs of call center users with a highly affordable delivery model, ensuring immediate access to robust call center technology, such as predictive dialer, IVR, call recording, and business analytics required to optimize operations and adhere to TCPA regulations. Its "always-on" cloud delivery model provides customers with immediate access to the latest version of the TCN solution, as well as the ability to quickly and easily scale and adjust to evolving business needs. TCN serves various Fortune 500 companies and enterprises in multiple industries including newspaper, collection, education, healthcare, automotive, political, customer service, and marketing. For more information, visit http://www.tcn.com/ or follow on Twitter @tcn.
TMC's CUSTOMER Magazine
Since 1982, CUSTOMER magazine (formerly Customer Interaction Solutions) has been the voice of the call/contact center, CRM and teleservices industries. CUSTOMER has helped the industry germinate, grow, mature and prosper, and has served as the leading publication in helping these industries that have had such a positive impact on the world economy to continue to thrive. Through a combination of outstanding and cutting-edge original editorial, industry voices, in-depth lab reviews and the recognition of the innovative leaders in management and technology through our highly valued awards, CUSTOMER strives to continue to be the publication that holds the quality bar high for the industry. Please visit http://www.customer.tmcnet.com.