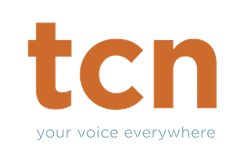 LAS VEGAS (PRWEB) January 28, 2020
WHAT:
Hosted by Receivables Management Association International, RMAi 2020 brings together debt buyers, originating creditors, collection agencies, law firms and brokers from around the world to discuss and debrief on regulatory updates, business opportunities and continuing education for the receivables management industry.
During the conference, TCN - a leading provider of cloud contact center technology for enterprises, contact centers, BPOs and collection agencies worldwide – will demo its intuitive natural language compliance tool enabling contact centers, collections and compliance officers to create and add customizable rules that fit the compliance needs of any ongoing campaign.
Additionally, TCN will highlight its recent partnership with Numeracle's Number Registration and Trusted Entity™ Certification solutions, enabling users to register and certify phone numbers with call labeling analytics companies utilized by the top U.S. wireless carriers and third-party robocall identification apps. TCN's strategic partnership with Numeracle safeguards contact centers' calls from being incorrectly classified as "fraud" or "scam" and centralizes call labeling data to empower the originators of legal and wanted calls with actionable measures to regain control of their outbound calling strategies.
WHEN:
February 3-6, 2020
WHERE:
Receivables Management Association International's 2020 Annual Conference
Booth #106
Aria Resort & Casino Las Vegas
3730 S. Las Vegas Blvd., Las Vegas, NV 89158
For more information about RMAi 2020, or to register, visit: https://rmaintl.org/events/2020-annual-conference/.
About TCN
TCN is a leading provider of cloud contact center technology for enterprises, contact centers, BPOs, and collection agencies worldwide. Founded in 1999, TCN combines a deep understanding of the needs of call center users with a highly affordable delivery model, ensuring immediate access to robust call center technology, such as predictive dialer, IVR, call recording, and business analytics required to optimize operations and adhere to TCPA regulations. Its "always-on" cloud delivery model provides customers with immediate access to the latest version of the TCN solution, as well as the ability to quickly and easily scale and adjust to evolving business needs. TCN serves various Fortune 500 companies and enterprises in multiple industries including newspaper, collection, education, healthcare, automotive, political, customer service, and marketing. For more information, visit http://www.tcn.com/ or follow on Twitter @tcn.